Gandalf and audacity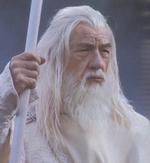 The Dude (with the help of the Diva) discovered that Gandalf has something to say about audacity on PlayStation 2. They worked very hard to get the quote for mom's blog. And it's perfect:
For ourselves there is no hope. This is our final act to give Frodo time — time to end the evil that marshalls before us.

We now give witness that the day of men faces the final test. The eye of Sauron will be upon us, mistaking our audacity for power.

We must hold his gaze long enough for the unthinkable to become real. For hope to conquer all.
At first, the Dude gave me only the part of this quote about audacity — that evil would mistake it for power. And I was disappointed. Where is the inspiration in that?
But it's all in the context: sometimes we are powerless; sometimes we do confront circumstances and opposition that are overwhelming. I loved Lord of the Rings for the reminder that it is a great honor to give your all on the side of good, standing against evil, even if it costs you everything. And even the weakest among us has a part to play.
You just have to go with Gimli! "Certainty of death! Small chance of success. . .What are we waiting for?" There's audacity!