Management Training of DC
It takes a skilled teacher like Jack to hold the attention of a room full of smart lawyers — J. David Hughes, Esq.
Management Training of DC, LLC is a management training company that advises managers on tactics and strategies to be better bosses. Our unique practice of persuasion-leadership teaches Real Management Training to managers and key individual contributors.
Business Sense, Military Precision & Timeless Truth
Other types of training teach time-management — to manage the individual's individual time. Instead, we teach you, the manager and influencer, not to manage your time, but to leverage your time, and the time of your team, to get more done; both inside your organization and with outside customers.
Our emphasis uses the Army's two-part definition of discipline:
1) The prompt obedience to orders, which every organization needs; and, more important,

2) The initiation of appropriate action in the absence of orders.
The challenge for today's leaders is working with the young entry-level individual contributors who demand work-life-family balance. And training the managers to manage.
What We Do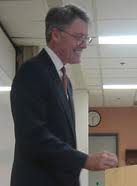 Jack Yoest, left, lecturing at the Stern School of Business at New York University.
Workshops and Seminars
Management Training of DC educates managers in planning, organizing, leading, motivating, coordinating and controlling. Our experience is in the military, for-profit, non-profit, government and start-up organizations.
Organization Managers and sales Account Managers are paid to accomplish the mission; to deliver the numbers.
The manager doesn't manage numbers or staff,s/he manages behaviors —
and leads people.
We teach the manager to use both his knowledge and his network to produce results, to work his silo into his circle of influence. We detail the skills and sharpen the abilities of managers and individual contributors.
Email me, Jack Yoest, for more information.
Follow on Twitter for Management Tips at #MTDC.
Sales and Persuasion Training for Business, Government, War.
Management Training