Richard Branson Press Conference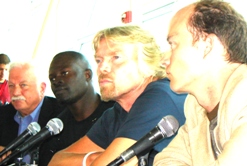 Charles McCormack, Djimon Hounsou, Richard Branson and Jamie Drummond
Running for the plane. Highlight from the press conference.
Jamie Drummond, executive director and co-founder of DATA (who looks and sounds just like Ewan McGregor), said that the ONE Campaign is becoming "like the NRA for the poor."
Everyone laughed, and Richard Branson responded, "or like the AARP. . ."
Much more later. Both Djimon Hounsou and Richard Branson addressed the corruption issue extensively.
On to Edinburgh. . .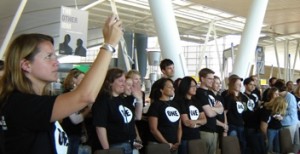 Live8 and G8 coverage continues…
###
Feld Thoughts on Live8 and Pink Floyd.
Live8 and more at Joho the Blog
Culture Vulture has impressions of Live8
The OfficeWebLog has analysis.
Mudville Gazette does it all at Open Post.