Rush Limbaugh Reports Head NAG Shoved Aside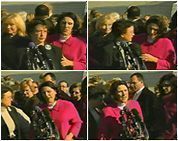 Charmaine Yoest seizes mic
from Kim Gandy
Please forgive the-day-in-the-life post from Your Business Blogger(R). I was in the middle of drafting an article on the glass ceiling for women. And got a first person account instead.
Today I thought I'd give the little woman a respite from the laundry and the kids. "Go play in the Nation's Capital," I said to Charmaine this morning. "Have a fun lunch with the girls!"
Then I hear Rush talk about a smack down at the Supreme Court and see a photo of Charmaine in her red power suit at Rush Limbaugh EIB Extra… .
She had Kim Gandy in a half-nelson.
I have sat through a number of cantankerous board meetings. Adversarial budget negotiations. Hardball sales presentations. Terminations. Giving and getting.
But no one actually got spanked.
I thought the gathering of girls today would be a powder puff tea party of cooperation. Sweetness and light and reason and 'Please' and 'Thankyou.'
I was wrong. No one fights like a woman on a mission.
I'll have to rewrite the article.
(It is a joy to marry over your head.)
###
Thankyou (foot)notes:
Rush Limbaugh at RushLimbaugh.com
Be sure to watch Charmaine on CNN tonight between 8 and 9.
Please consider subscribing to a free email notification.
And do comment.
Mudville Gazette has Open Post.