January 1; Individual Players Must Align As One Team and Focus On One Vision MANAGEMENT BY THE BOOK: 365 Daily Bible Verse & One-Minute Management Lessons For The Busy Faithful


Chapter One: Vision
1 January
Where there is no revelation,
the people cast off restraint;
but blessed is he who keeps the law.
Proverbs 29:18
Individual Players Must Align As One Team and Focus On One Vision
The Riot Act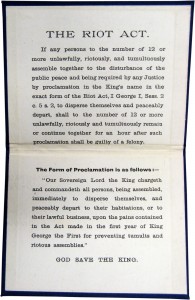 In the early 1700's unruly crowds would often gather in Great Britain to protest and complain against the government. The local sheriff would command threatening mobs to disperse within an hour to preserve order. The crowd would comply or face capital punishment.
The rabble was read The Riot Act.
It is an ageless story: the threat of an undisciplined horde — each man going his own way rejecting leadership and direction.
Managers I work with these days often feel the same way about their rabble–I mean, staff.
Whenever two or more people gather together in a common cause we have an organization. If this company of individuals is to reach a goal it will need guidance and control. But the group may want to do its own thing, working on its own pet projects and hidden agendas.
What is the leader to do?
The problem has ancient origins. Proverbs 29:18 says, Where there is no revelation, the people cast off restraint; but blessed is he who keeps the law.
It sounds like they needed A Riot Act back then too.
If the group does not have revelation — a vision giving direction — then each person will go her own way. If the people reject the discipline of authority then it is not an organization–it is the, well, proverbial mob.
The Scripture revelation or vision is presented by a prophet; followers accept the restraining guard-rails and are blessed in keeping the rules.
Today's CEOs, as prophets, should be so lucky.
You as a senior leader must tell the story of where the company is going—a path that takes your business unit over the horizon to a finish line just out of sight. But staffers can still see it clearly in their mind's eye.
Stay focused on "revelation" – communicating the corporate vision and bringing the "restraint of the law" – a discipline that produces the blessing of cohesion for your entire team.
###
Photo Credit: Original publication from the beginning of the 20th century, copyright expired. Photo by Jenson – Booklet from the collections of the University of Reading.