January 26; Can You See Your Team Succeeding? MANAGEMENT BY THE BOOK:365 Daily Bible Verse &One-Minute Management Lessons For The Busy Faithful


26 January
"Then I said to them,
'You see the trouble we are in: Jerusalem lies in ruins'…"
Nehemiah 2:17
Can You See Your Team Succeeding?
Team Vision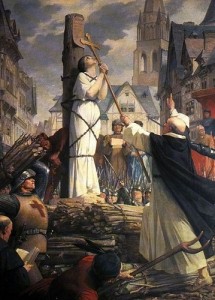 Her gift was an ability 'to see' what had to be done and to lead with this vision. She re-conquered a country. She was hailed as a Saint. She was burned at the stake.
Joan of Arc was a victorious visionary who would be abandoned by friends and mocked and executed by her enemies.
Her unique ability was often cited as being able to look forward and envision how the English could be driven out of France. But today's thoughtful CEO knows that a vision is not fulfilled by itself.
It takes an army.
Joan of Arc's real talent might have been more than being open to (Divine) inspiration. She was able to identify, recruit and motivate key managers to implement the military plans of French conquest. She made good hires.
"The greatest of all her gifts, she has the seeing eye," wrote Mark Twain in Joan of Arc:
The common eye sees only the outside of things, and judges by that, but the seeing eye pierces through and reads the heart and soul, finding there capacities [and] to… select its subordinates with an infallible judgment…
She was able to assemble a team, "men of worth and fidelity…"
***
Communicating a vision always involves more than a strategic plan. What army, what team will do the heavy lifting?
The Wallbuilder, Nehemiah, in 2:17 reports, "Then I said to them, 'You see the trouble we are in: Jerusalem lies in ruins'…"
The 'them' Nehemiah exhorts may have been both the citizenry and local leaders. He was also mocked. But Nehemiah was able to persuade the Israelites to see his vision. Prominent families – certainly "men of worth and fidelity"– were selected and assigned sections of the city's protective wall to work. We can assume that the project was completed safely on time and on budget. The Wallbuilders rebuilt and fortified the city and began to re-establish the country.

Today France is an independent nation.
Jerusalem is the capital of Israel.
###