August 30; If No One Is Listening, It Matters Not what You Say MANAGEMENT BY THE BOOK: 365 Daily Bible Verse & One-Minute Management Lessons For The Busy Faithful


30 August
If anyone has ears to hear, let them hear.
Mark 4:23
If No One Is Listening, It Matters Not what You Say
Calling an audible
Your Business Professor had been regularly calling on the hospital account making dozens of sales presentations. I had known the decision maker, a nurse, for years. She asked me, "Do you have a 26 gauge?"
I stared at her. We were the only company on the market that did. And I had told her that dozens of times in dozens of pitches.
She had been paying little attention to me. I was little more than a professional visitor. All of my company's marketing efforts and budget, and my personal selling genius were dust in the whirlwind that was her Intensive Care Unit. My glossy, four-color direct mail piece did not catch any attention; she did not hear me.
I was selling the Good News of teeny-tiny catheters for intravenous therapy, but no one had ears to hear. No one was buying my copy.
***
There are Biblical references to hearing with understanding before a person can get the Gospel. Recent literature and studies confirm ancient understanding. In an 1898 issue of Printers' Ink, a writer noted, "The mission of an advertisement is to sell goods. To do this, it must attract attention…" (Wikipedia 2014)
Later in 1921, sales trainer, C. P. Russell, wrote that selling could best be done after the salesman has first gained attention from the customer, then interest, desire and action. This popular formula has made its way into countless modern marketing textbooks under the rubric-acronym, AIDA. (Russell 1921)
More recently in 1963, marketing management scholar, J. A. Howard, reminded sales and marketing professionals of Cognition, Affect and Behavior for another nifty acronym, CAB. Cognition, or reasoning and understanding, comes first. (Howard 1963)
***
Management of the sales process is successful when a deal is done, the sale is closed and the account opened. Sales representatives as Account Managers are the best communicators: they accomplish organization goals with the active support of their company's customers.
These sales managers, like all leaders, get the attention of other people. People listen.
***

Your Business Professor, as a teenager, once sold vacuum cleaners door-to-door. I was acting as a Rainmaker where I performed all the actions of both marketing and sales. I studied under an experienced sales trainer, George, whose last name is lost to the decades.
He encouraged a simple method to catch the attention of the prospect and provoke some action with—literally—a sales pitch. He threw an attachment, usually a lightweight nozzle, at (to) the customer. Now it was a gentle, high arch toss, released after George had his catcher's eye (he never threw to a woman). The baseball pitcher assault and battery analogy always caught the buyer's attention.
Notice that when the prospect has made the catch, it was easier for him to see and feel the product features to—most important—hear and understand the customer benefits.
***
My decision-making nurse was distracted by a beeping monitor. But I answered her question, "Yes, we have the 26 gauge." My hands were full. I clumsily pulled a product sample from my bag and asked her, "Can you open this for me?"
She didn't drop the ball.
She finally heard the message and took action.
If anyone has ears to hear, let them hear. Mark 4:23
###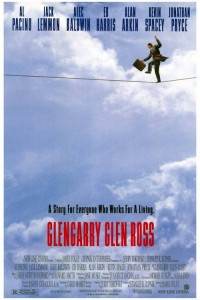 Alec Baldwin, as a sales trainer in the movie Glengarry Glen Ross, reviews AIDA and uses 'Decision' instead of 'Desire.'
His line, "Have you made your Decision for Christ…?" done with a flash of background light, is perfect theater.
This 'sales motivation' scene is not in the original two-act play by David Mamet, which won the Pulitzer Prize in 1984.
Please forgive the bad language at the link.