Human Resources: 2 Things To Count On At Christmas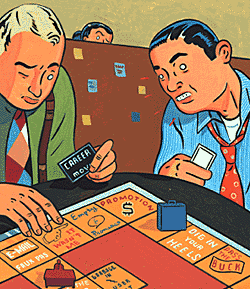 No, not parties with anticipated harassment and potential litigation.
No, December could always be counted on to be a quiet month for the head-counters. Two reasons.
1) No employee quits at Christmas — all wait to collect the quarterly and year-end bonuses, then fly in January. And,
2) No employer fires at Christmas — no heartless boss, no corporate Scrooge would put even the deadwood window managers out in the snow.
Until now.
Your Business Blogger, who has been accused of being a Window Manager, is learning that the Holiday Season has not been a reason for corporate courtesy.
Excellent people are getting canned at Christmas.
It was with great sadness that we learned that Mike Wallster's company was sold. The head-count became a body-count. At Christmas.
Mike writes at Penguin Poletariate and Ipso Facto.
These un-seasonal terminations keep the anti-capitalists in business. A Christmas Season's severing gives corporations and managers a bad name. Bad.
So let's attempt some holiday cheer, if possible. Visit Ipso Facto and leave Mike a comment of encouragement. And any job lead you might have. Or contract work.
Merry Christmas. Please.
###
Was this helpful? Do comment.
Consider a free eMail subscription for this site.
Thank you (foot)notes:
If you are on the job market, see my (free!) advice for finding your next assignment.
Thank you to the Coyote Blog for hosting The Carnival of the Capitalists.