Are Managers Sociopaths?



Two decades ago, I was part of a 45 member sales team. Whenever there was excess budget, we sales guys, staff and management (also known as "overhead") were evaluated by outside consultants.
We all got the same tests.
We were grouped by results. All the cool kids, the normal employees, sat in the front. 57 of them. Laughing and joking and backslapping and happy.
In the back of the room were grouped — three quiet odd-balls: a product manager, the CEO and Your Business Blogger(R).
At first I was pleased to have been grouped with the CEO. But the product manager was a dimwitted kumquat.
I learned later that the CEO was a mean dimwitted kumquat.
So.
I'm writing about as mean monsters during the Christmas Holidays and Alert Reader Fred B. comments:
I was playing backgammon at the yacht club Thursday (not as grand as it sounds but, I like that it sounds grand). One of our group is a prison psychologist.

If you think you have had a bad day, his day will recalibrate your meter.

We ended up talking about psychological testing and some of the classes he had with other people who were in the prison system.

The class would take one of the various tests and then the instructor would show how to score and evaluate the test. He noted that some in his class got a little discomforted

when it was explained why

some results meant sociopath.

They were managers.
Hugh at gapingvoid.com seems to have summed Fred's comments up nicely on this back of the business card diagram.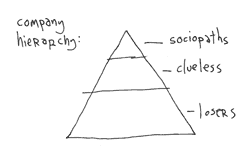 by Hugh MacLeod
Alert Reader Fred B. closes with:
[The prison shrink's] view was that a little sociopath in a manager wasn't that bad because it meant they could carry out logical decisions with some emotional detachment.

Big mistake in my view but, that's the world we live in.

A world run by high-functioning sociopaths.
And now we've got business cards to be proud of!
###
Was this helpful? Please comment.
Consider a free eMail subscription.
Thank you (foot)notes:
Hugh at gapingvoid.com was featured as one of the influential "group of 33" business leaders in Seth Godin's Moo book. Visit Hugh's site and order your business cards. I bought the sociopath product. Type casting, as they would say in Hollywood.
Here's the one Charmaine thought I should get: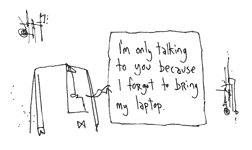 What do you think? Please comment. Sociopath or No People Skills?
Mudville Gazette has Open Post.
Outside the Beltway has Traffic Jam.
Visit Don Surber for Best of Friday Blogs. Then bookmark his site, as I have.
See Deborah Brown and Business Cards and Branding Message.
Be sure to visit my good friend Ron Newton with Bradults.