Show Business: Lesson One


Every Friday, Your Business Blogger has an article up on Small Business Trends Radio. Here's a preview of this week's edition.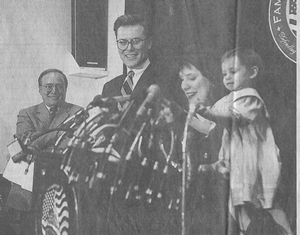 Bill Archer, Left
Your Business Blogger, Charmaine and
The Dreamer
A few years ago, Your Business Blogger and Charmaine and the 18 month-old Dreamer kicked off a press conference for Congressman Bill Archer who was introducing tax cut legislation. As I droned waxed eloquent, the little Dreamer got distracted by the microphones. With their soft, inviting, spongy covers.

So she reached out and gave the mike cover a good squishy squeeze. And when she did…
Read the rest at Small Business Trends Radio, Show Prep for Your Big Show Biz Break.
###
Was this helpful? Do comment.
Consider a free eMail subscription for this site.
Thank you (foot)notes:
Small Business Trends is the creation of Anita Campbell.