Charmaine Debates Shock Advertisment on FOX & Friends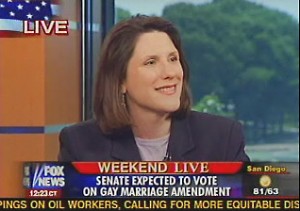 Charmaine on an earlier FOX appearanceCaution: Might be safe for work — but not for kids.
Has advertising crossed the line? Shock ads linked below.
Charmaine will be debating Greg Muehler from Serve Marketing on FOX tomorrow, Saturday, March 1, 2008. Hit time is 8:40 am Eastern — two segments.
From Newsweek, This Is Your Brain on Scary Ads — Are these graphic PSAs inspiring or offensive? You decide.,
The image is meant to shock: a little girl's face atop a woman's body, cleavage spilling over a low-cut cocktail dress. …The ads are disturbing, to put it mildly. But more disturbing, its creators say, is what they're trying to combat: 71 percent of teen pregnancies in inner-city Milwaukee are the result of statutory rape. … But industry experts say the campaign represents a genre of public-service advertising that's becoming more lurid than ever.

Shock advertising is an age-old gimmick. But compared with milder fare from years past ("This is your brain on drugs"), today's imagery is "like a sledgehammer to the face," says Steve Hall, founder of the industry blog AdRants. For instance: the ad displayed above-an anti-drunk-driving spot for Arrive Alive-featuring a scantily clad girl collapsed in a men's bathroom. Experts have called it muddled and pointlessly provocative.
Alert Reader Kalynne Pudner, at Auburn University and teaches Biz Ethics, points us to this analysis by By Jeffrey A. Tucker at Mises, as in Ludwig von,
But why must it be tacky and unbearable to so many of us? Well, let's be blunt: business is trying to reach the masses. Mises explains:

"Business propaganda must be obtrusive and blatant. It is its aim to attract the attention of slow people, to rouse latent wishes, to entice men to substitute innovation for inert clinging to traditional routine. In order to succeed, advertising must be adjusted to the mentality of the people courted. It must suit their tastes and speak their idiom. Advertising is shrill, noisy, coarse, puffing, because the public does not react to dignified allusions. It is the bad taste of the public that forces the advertisers to display bad taste in their publicity campaigns. The art of advertising has evolved into a branch of applied psychology, a sister discipline of pedagogy. Like all things designed to suit the taste of the masses, advertising is repellent to people of delicate feeling."

A sister discipline of pedagogy? Yes indeed it is, and it is also art, and those with "delicate feeling" need to learn to appreciate it for what it is. They don't have to believe a word of it. Decline to drink the potion to make you thin. Refuse the breakfast that will make you concentrate. Eschew the hand cream that will restore moisture. Be as skeptical as you want and, instead, save every penny. Turn off the television if you hate it and sit in your perfect environment and listen to Gregorian chant.
Newsweek continues,
Still, deterrence by disgust can work. In 2006, a series of Volkswagen safety ads drew attention for showing its cars in heart-stopping traffic accidents; within weeks, sales inquiries were up. A more recent ad for Canadian workplace safety features a glowing young chef describing her fiancé, whom she'll never marry, she says, because she's about to be in a "terrible accident." She then slips and scorches her face with a cauldron of boiling water. … "Some small amount of discomfort is worth it if it creates positive change," says Gary Mueller, founder of Serve, the agency behind the statutory-rape ads. The small discomfort, though, is getting bigger.
Danger: gallery of shock ads on Newsweek.
Please watch and let us know what you think.
###
Thank you (foot)notes:
See: Reality, Marketing and Aristotle. Your Business Blogger and Charmaine were extras background artists in a movie. But The Dude was the star. And gave us a lesson in marketing.
Ludwig von Mises. Mises is pronounced "MEE-zus." Charmaine told me.
Kalynne Pudner earned her Ph.D. at the University of Virginia. Auburn was lucky to get her.
Caution: Marketing follows. Here's some advertising sure to offend some:
Invitation to Solutions To Your Management Problems at www.Yoest.com