Helps for Writing an Employee Evaluation


Writing an employee evaluation? Try these 101 helping sentences.
Academia and the Army have one thing in common.
Yes, there is something. Your Business Blogger(R) is a former Armor Cavalry Officer and is currently an Adjunct Professor of Management, so I was surprised to learn of some overlap.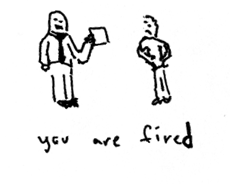 The results of an employee evaluation
should never be a surprise
Courtesy: Toothpaste for Dinner
Perhaps the only intersection is the willingness to share with fellow servicemen or teachers various helps needed for the efficient and effective transference of knowledge.
It is all, well, collegial. For the life of the (military) mind.
A college has two goals — the business of teaching and preparing the student for life.
An Army has two goals — the business of teaching and preparing the soldier for war.
It follows that there are the only two missions that the military should have:
1) Learning to fight and kill and break things, or
2) Fighting and killing and breaking things.
(Sounds like either a firefight or a faculty meeting…)
I recently had a client who was struggling to come up with just the right verbiage for an employee evaluation. I reminded him that this did not have to be an original work of art.
It simply had to be sincere, even if the words were lifted elsewhere. Authentic, even if borrowed.
(This all makes sense when coming from a high priced consultant.)
Your Business Blogger(R) suggested using an old Army briefing book. Remember, it worked for Mitt Romney's father, George W. Romney who once remarked about being "brainwashed" after a military presentation during Vietnam. It worked for him. It can work for you, too.
For your employees, I mean.
An efficiency report will comment on the employee's commitment, attention to detail and follow-up.
The best evaluations will outline a sample example of an achievement with a department problem, a solution and the measurable result of the staffer.
One Hundred and One Helping Sentences
USA Support Command, Saigon Regulation 672-1 Headquarters, USASUPCOM, Sgn 9 Sept 1970, G. White, Armor
[Language has been updated somewhat for our modern times.]
1. Through his untiring efforts, devotion to duty and professional knowledge, NAME has accomplished TASK which increased the effectiveness of DEPARTMENT.
2. The timely guidance he gave to all personnel ensured the maintenance of a high standard of SALES/NOUN of DEPARTMENT.
3. The outstanding record of performance by NAME is due to his attention to detail in all aspects of his duty assignments and to his desire for zero defects.

4. His standards of appearance, military courtesy, meticulous attention to detail and his cheerful cooperative approach to all problems and tasks drew favorable comment form superiors and subordinates alike.
5. NAME's initiative, enthusiasm, inspiring example and devotion to duty contributed significantly to the efficient use of RESOURCE under varying conditions.
6. In his position, NAME has demonstrated dynamic leadership and astute judgement and provided firm guidance and positive direction in fulfilling the missions of DEPARTMENT.
7. The teamwork displayed by the many personnel under his supervision is a prime example of NAME's outstanding organizational and leadership capabilities.
8. Exhibiting initiative, technical adeptness, sound judgment and comprehensive knowledge in application and implementation of DEPARTMENT's policies and procedures, NAME executed demanding assignments in a consistently outstanding manner and contributed materially to the successful accomplishment of the TASK.
9. He demonstrated outstanding leadership and managerial ability in supervising the complex and diversified operations of DEPARTMENT.
10. Displaying exceptional professional ability, foresight, mature judgment and logical application of sound management principles, he was outstanding in the successful guidance of the activities of DEPARTMENT.
11. Displaying superior professional ability, initiative and meticulous attention to detail NAME delivered outstanding results for DEPARTMENT.
12. NAME's foresight, keen analytical mind, sound judgment and enthusiastic approach to the numerous and complex plans, coupled with his great sense of responsibility, initiative and cooperative attitude, have contributed in large measure to the accomplishment of the DEPARTMENT's goals and objectives.
13. His keen foresight, sound judgment and professional competence enabled him to discharge with superior results the many responsibilities of his position.
14. During this period, NAME demonstrated initiative, enthusiasm, professional ability and a keen sense of foresight in performing his duties controlling the logistics in his job as ASSIGNMENT.
15. Through remarkable foresight and skillful proficient guidance of ASSIGNMENT program, he contributed immeasurably to the successful accomplishment of GOAL.
16. His development of improved systems and procedures in the field of SPECIALTY and the guidance provided by him for the implementation represents a significant achievement.
17. His initiative, resourcefulness and untiring efforts to achieve zero defects in all phases of his duties resulted in increased operational efficiency of the DEPARTMENT by X percentage.
18. His exemplary handling of administrative matters attests to his professional knowledge, willingness to accept responsibility, attention to detail and the ability to adapt himself to any assignment or situation.
19. Through his keen personal interest, initiative and untiring devotion to duty, NAME rendered invaluable assistance in the planning and execution of an improved PRODUCT for the DEPARTMENT.
20. During his tenure in this position, NAME demonstrated exceptional ability, accomplishing many complex tasks through diligence, foresight and sound judgment.
21. Through his capable leadership, he inspired personnel who served with him to such an extent that all assigned missions and tasks were performed in a consistent, exemplary manner.
22. Through sound judgment, professional competence and tenacity of purpose, NAME achieved major improvements in the functions of the TASK/EQUIPMENT.
23. These same qualities, combined with his talent for coordinating the complexities of contemporary administration, gave renewed impetus to the forms management and records administration programs of DEPARTMENT.
24. His devotion to duty and superior knowledge of the many facets of COMPANY support not only resulted in the maintenance of high standards of DEPARTMENT in DIVISION, but also inspired all those with whom he worked.
25. As POSITION/TITLE, NAME demonstrated professional adeptness, exercised sound judgment and displayed unusual devotion to duty.
26. NAME's talent, display of energy, enthusiasm and sincere devotion to duty earned him the respect of all his associates.
27. As the TITLE, NAME performed his assigned duties and tasks in an exemplary manner.
28. His tact, professional knowledge and sound judgment, combined with his ability to work without supervision and his willingness to work beyond normal office hours, evoked many favorable comments from the managers he assisted and contributed significantly to the successful accomplishment of the DEPARTMENT.
29. He willingly assumed these responsibilities, normally performed by individuals at a higher pay grade, and accomplished the ASSIGNMENT with commendable results.
30. His application of intelligent, sound managerial principles and mature judgment in supervising and implementing major elements of TASK was a primary contributing factor in the success of these important projects.
31. As a result of his exceptionally meritorious service, NAME has clearly demonstrated that he is outstanding among his peers.
32. He demonstrated on all occasions a thorough knowledge of his work and was exceptionally reliable in his resoluteness of purpose.
33. His high standards of conduct, infectious enthusiasm and indomitable spirit was a light of love and joy in his miserable cubicle. [OK, it didn't really say that. Some of this wording is so, um, 1970's.]
34. NAME displayed outstanding professional ability, sound judgment and initiative in all aspects of his assignments.
35. His complete understanding of JOB DESCRIPTION and programs, his keen sense of responsibility, long hours of work, sound training procedures and aggressive support of DEPARTMENT activities served as an inspiration to those whom he served.
36. NAME demonstrated great initiative, superior knowledge of his duties and exemplary business bearing in his capacity as TITLE.
37. His loyalty, trustworthiness, high morals [stay with me now] and ethical conduct set the example for his entire department.
38. His tact, commonsense, professional knowledge and devotion to duty were an inspiration to his associates and contributed significantly to the current high standards of performance of DEPARTMENT.
39. His judgment, integrity and exemplary personal conduct have earned the respect of his peer group.
40. Through initiative, professional competency and devotion to duty, NAME contributed significantly to the effectiveness of the DEPARTMENT.
41. His sound business ethics, neat appearance [yes, yes, it may be better to look good than to perform good. Your Business Composure is your Business Presentation] and cheerful cooperative attitude earned the respect and admiration of his superiors and subordinates.
42. NAME's untiring efforts, understanding and professional ability were an inspiration to both his superiors and subordinates.
43. His exceptional broad knowledge of administrative and logistical procedures, coupled with his initiative, resourcefulness and willingness to cooperate enable him to perform many any additional duties which assisted the DEPARTMENT and added to the smooth operation of the DIVISION.
44. His unusual and constant devotion to the goals earned him the respect and admiration of all those with whom he served, and contributed materially to the high standards of DEPARTMENT support provided by his unit.
45. NAME exhibited outstanding organizational ability, skillful supervision and exceptionally sound judgement.
46. All facets of his TASK operations received consistently enthusiastic favorable comment by inspecting managers.
47. The initiative imagination, organizational abilities and untiring efforts displayed by NAME contributed significantly to the successful accomplishment of the mission of his organization in support of DEPARTMENT.
48. His conscientious actions, diplomatic manner and astute advice contributed materially to the accomplishment of the mission of DEPARTMENT in supporting of TASK.
49. Through his initiative, professional competency and devotion to duty, he was instrumental in developing an effective PROGRAM.
50. His superb planning ability contributed significantly to the success of the TASK.
51. Through sound advice, tactfully tendered [goodness…] NAME succeeded in establishing a harmonious and effective working relationship with the DIVISION and his staff which resulted in significant progress in the TASK.
52. He displayed initiative, diligence, foresight and sound judgment in maintaining close working relations with the DIVISION and in securing the understanding and support of DEPARTMENT.
53. His ability to resolve many varied and complex problems is evidenced in the success achieved by the DEPARTMENT in improved TASK effectiveness. Through initiative, professional ability devotion to duty [yes, you can use that word, even today] and outstanding leadership he has contributed materially to the accomplishment to the DEPARTMENT goals and objectives.
56. His professional competency, initiative and tact in his dealings with all military and civilian personnel, contributed materially to the success of the TASK program.
57. NAME's professional competency, calm and effective ability contributed immeasurably to the efficient operation of the DEPARTMENT.
58. His outstanding qualities of supervision were demonstrated in all areas of PROJECT assignment requiring the highest degree of professional skill, understanding and judgment.
59. His professional knowledge and keen [or maybe, swell] insight into the numerous problems and challenges of DEPARTMENT.
60. Through his dauntless determination, distinguished manner and remarkable foresight, he effectively planned and supervised the implementation of major organizational changes which resulted in greater efficiency and more economical us of DEPARTMENT/EQUIPMENT.
61. His broad knowledge of administration and thorough understanding of PROCEDURE contributed materially to the accomplishment of the varied missions of DEPARTMENT.
62. Through versatility, leadership, perseverance and devotion to duty, NAME discharged his responsibilities in a highly effective manner.
63. His remarkable accomplishments furthered the DEPARTMENT program and contributed directly to the accomplishment of the overall mission.
64. His displayed initiative, astute planning, sound managerial principles and outstanding ability in all aspects of TASK.
65. His insight and grasp of the special needs of DEPARTMENT tempered with tact and understanding, facilitated his superior administration and firm control.
66. His honesty, integrity, perseverance, diplomacy and earnest desire to be successful have contributed immeasurably to his outstanding success as TITLE.
67. Exhibiting initiative, resourcefulness and professional confidence, NAME executed demanding assignments in a consistently outstanding manner.
68. His exceptional operational ability combined with his sound recommendations for the development and implementation of new techniques and more productive methods that materially aided his department in achieving and maintaining a high level of operational efficiency, which significantly contributed to the effectiveness of the GOAL effort.
69. NAME's marked ability, energetic approach and intense personal drive to excel inspired the confidence of his superiors and provided a worthy example for his contemporaries and subordinates.
70. Through professional competence, ingenuity, patience and intense loyalty, he met and resolved the most serious difficulties in DEPARTMENT.
71. He shouldered innumerable important responsibilities for the COMPANY.
72. He succeeded in maintaining a state of high morale that resulted in exceptional work performance in both quantity and quality.
73. His ability, diplomacy and willingness to lend assistance contributed significantly to the successful accomplishment of the mission of his own organization and of the COMPANY.
74. Through untiring efforts, sound judgments, strong initiative and a high degree of knowledge, NAME contributed significantly to the successful accomplishment of GOAL.
75. His commanding aggressiveness and spirited sense fo responsibility were instrumental in combining the many diverse elements of the DEPARTMENT into an effective and coordinated working group, which contributed materially to the raising the efficiency of all activities in DEPARTMENT by NUMBER per cent over last year.
77. His initiative and selfless devotion, coupled with his diplomacy contributed to the effectiveness of the DEPARTMENT.
78. Through his assignment he demonstrated rare and exceptional initiative, resourcefulness, tact and judgment to a degree in keeping with the highest military traditions.
79. Particularly noteworthy was the significant improvement he made in modifying the DEPARTMENT procedures. As a result of his efforts in this area, NUMBER man hours per year have been saved in accomplishing the TASK.
80. With his broad knowledge of technical and administrative procedures and his soldierly dedication to duty, he has achieved an outstanding record in discharging his diverse responsibilities of TITLE.
81. His broad knowledge of COMPANY procedures, professional competence, initiative and sound mature judgement enabled him to accomplish all duties assigned in a superior manner and make a material contribution to the DEPARTMENT.
82. His brilliant workmanship was repeatedly responsible for the high state of combat efficiency and readiness achieved and maintained by these units.
83. By his broad background in DEPARTMENT he has been able to seek out problem areas and establish positive solutions, which helped reduce GOAL to an all time low.
84. His enlightening direction of PROJECT has contributed immeasurably to the health, wealth, welfare and morale of personnel in DEPARTMENT.
85. He performed all important duties in a exemplary manner while displaying at all times high professional competence, strong initiative and unfailing competence.
86. His entire period of service has been marked by a selfless attitude and a willingness to expend his every effort to achieve superior results.
87. He has clearly demonstrated that he is a TITLE of the highest caliber and is outstanding among his contemporaries.
88. His initiative, exceptional knowledge of competitive marksmanship, and willingness to work long hours to achieve his goal, were largely responsible for the outstanding results accomplished by the DEPARTMENT.
89. His exceptional professional diplomacy and outstanding organizational ability resulted in receipt of numerous AWARDS and superior ratings in inspections covering various phases of operations.
90. He has manifested affirmative thinking in accomplishing any given task in an expeditious manner and achieved superior results through his aggressive and whole hearted support.
91. During this period he consistently accepted responsibility for significant and unusual projects well outside the area of normal DEPARTMENT activities. His diligence, talents and devotion were major factors in the successful establishment of the PROCEDURE system and the finalization of COMPANY policy currently uses by DEPARTMENT.
92. He exhibited remarkable ability, initiative, professional knowledge and drive in the development and formulation of the many varied and exacting TASK plans of DEPARTMENT.
93. Through his tact, perseverance, devotion and outstanding performance, NAME substantially furthered the prestige, effectiveness and efficiency of DEPARTMENT.
94. His performance of duties is an example of the highest traditions of COMPANY and his efforts have substantially aided the completion of PROJECT on time and on budget.
95. His broad knowledge of DEPARTMENT procedures, together with his competence and resourcefulness, enabled him to make many material contributions to COMPANY.
96. NAME continually demonstrated outstanding attributes of leadership and performed his assigned duties with the highest possible degree of efficiency.
97. By personal example and leadership and by constantly striving for outstanding performance NAME has been instrumental in the PROJECT.
98. He has consistently been a loyal and determined TITLE giving unselfishly of his time in order to get the job done.
99. He displayed initiative, resourcefulness and outstanding professional ability in all aspects of his assignments.
100. His insight and grasp of COMPANY procedures and his knowledge of his job enabled him to ensure the successful operation of the ASSIGNMENT.
101. NAME's untiring efforts, devotion and loyalty reflect great credit upon himself and achieved outstanding accomplishments.
The Alert Reader will notice that the preceding 101 helps were all puffery and positive. Marginal employee performance evaluation and appraisal is outside the scope of this article.
Hard reviews are the harder to write and deliver.
###
Thank you (foot)notes:
Cross post from Management Training of DC, LLC, Management Training Tip: Writing An Employee Evaluation