Absolut Ad: Obama's Map for America?


Obama talks about Change. He talks about avoiding conflict and leaving lands where some people may not want us there.
If there is a fight for a country, Obama will surrender.
On all fronts.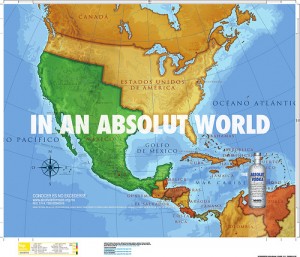 Obama can then take the Stars off the American Flag he won't salute; the Flag pin he won't wear.
Obama's only Absolut…
###
Be sure to follow Jack Yoest on Twitter
Thank you (foot)notes:
Before Obama surrenders, maybe we can get a refund on the Gadsden Purchase?,
In return for this vast territory, the United States gave [Mexico] $15,000,000 and assumed responsibility for paying $3,000,000 in claims of American citizens against the Mexican Government.

A large body of public opinion in the United States had opposed the war against Mexico and felt that the Southern republic had been treated badly. The territory desired by Gadsden and his group was then a sort of no man's land, experiencing frequent Indian raids. The United States wanted to make certain "boundary adjustments"; Mexico needed money and wanted a settlement of her Indian claims against the United States; and Gadsden and his friends wanted a route for their railroad.

In 1852 Gadsden agreed to pay Santa Anna $10,000,000 for a strip of territory south of the Gila River and lying in what is now southwestern New Mexico and southern Arizona. Many Americans were not especially proud of the Guadalupe-Hidalgo Treaty and considered the price of the Gadsden Purchase as "conscience money." The Gadsden Purchase has an area of 45,535 square miles and is almost as large as Pennsylvania.
Mexico reconquers California? Absolut drinks to that!,
The latest advertising campaign in Mexico from Swedish vodka maker Absolut promises to push all the right buttons south of the U.S. border, but it could ruffle a few feathers in El Norte.

The billboard and press campaign, created by advertising agency TeranTBWA and now running in Mexico, is a colorful map depicting what the Americas might look like in an "Absolut" — i.e., perfect — world.

The U.S.-Mexico border lies where it was before the Mexican-American war of 1848 when California, as we now know it, was Mexican territory and known as Alta California.

Following the war, the Treaty of Guadalupe Hidalgo saw the Mexican territories of Alta California and Santa Fé de Nuevo México ceded to the United States to become modern-day California, Texas, New Mexico, Utah, Colorado and Arizona. (Texas actually split from Mexico several years earlier to form a breakaway republic, and was voluntarily annexed by the United States in 1846.)

The campaign taps into the national pride of Mexicans, according to Favio Ucedo, creative director of leading Latino advertising agency Grupo Gallegos in the U.S.

…
Full Disclosure: Charmaine, the wife of Your Business Blogger(R), served as Senior Advisor to the Huckabee for President Campaign.
UPDATE: Read a first-hand account of John McCain on the campaign trail in Pensacola, Fl, Service to America Tour, courtesy, John Howland, USNA-AT-Large, at the jump.
Terry Pruitt, former military, has more on rendering a salute and respect for the Flag at Obama Seems to Get It Wrong.

From: Bob Stumpf
Sent: Friday, April 04, 2008 6:41 PM
Subject: Service to America tour
Dear friends,
On the campaign trail with our next president.
John McCain arrived in Pensacola Wednesday afternoon on the fourth stop of his Service to America tour. Earlier that morning he delivered a major speech in Annapolis at the Navy Marine Corps Memorial stadium against brilliant skies and 40 knot winds that blew the teleprompters over and scattered the written pages of his speech. He never missed a beat. The gale also straightened the seven American flags in the backdrop to rigid attention for a great photo/video op.
At the Pensacola Junior College event, I was honored to be sitting up front with Medal of Honor winner, Col. Bud Day and Nancy Fetterman who would moderate the panel discussion by leaders of local service organizations. I had a small speaking part, introducing Bud and Nancy and the videos prepared for this tour. John and entourage arrived right on schedule with Bud talking about how their North Vietnamese tormentors referred to John as "the Prince," a reference to his father's position as commander in chief of all Pacific theater forces at the time. When Bud said "the prince" John bounded up on stage behind him and they embraced. Of course the capacity crowd went crazy.
John introduced his family and distinguished guests including former Secretary of the Navy John Lehman and Congressman Jeff Miller. Cindy, John's mom, Roberta, 96 years young, spry, distinguished, and lovely. Also son Doug, American airlines captain, sister Sandy, brother Joe, and Orson Swindle, friend and former roommate at the Hanoi Hilton, and old friend Carl Smith.
The speech was emotional and self deprecating, emphasizing his youthful indiscretions, such as blowing his meager ensign paychecks at Trader Jons, and developing an inward focus in his professional development. He talked about his early years as a carrier aviator and the beginning of his philosophical turn-around during deployment off Cuba for the Cuban missile crisis.
But the denouement was his description of the mental and emotional gymnastics of his prison camp experience, where he was systematically tortured for many years in part because of his emphatic refusal to be repatriated before those captured before him. There he finally learned about service above self, the realization that he was beholden to his POW `brothers to bring him back from despair, where the glory of war was more about love for one's comrades than medals for valor.
After thunderous applause, I introduced Nancy and she moderated the 20 minute round-table discussion.
I had to skip out early to make sure everything was set for the next event: happy hour at Jerry's Cajun Cafe, just across 9th Avenue from PJC. The campaign had asked me to set something up with "a dozen pilots who would like to have a beer with John McCain." That was pretty easy. Jerry Mistretta generously offered his place, I rounded up four "senior" pilots, four midgrade, and four flight students, we threw in some ancient Blue Angel paraphernalia from my closet for an aviation motif, and the gig was on.
The "Straight Talk Express" arrived shortly after the PJC event. John and the entourage were met by Jerry, in shorts and a Jerry's golf shirt. John warmly greeted everyone, including the staff. I told him that one of the flight students, Ens. Evan Knock, had just completed the course and was to be winged on Friday, then pulled out my old set of gold wings and asked if he would do the honors. He seemed pleased and made a great show of pinning them on, surely a memory of a lifetime for Evan. Everyone cheered.
The food was great, the beer was cold, the conversation lively and non-political. Our good friend Kent Bolin, on greeting the next President said, "Nice to see you again, sir. Where's Orson?" Unbelievable! McCain, at first taken aback, laughed and pointed him out. Kent said to Orson, "You're the reason I came here today." Marines, you gotta love 'em.
Happy hour was over far too soon as the "handlers" determined that we needed to get moving for Jacksonville so everybody could get a good night sleep for another busy day on Thursday.
We boarded the bus and drove the short trip to the airport charter ramp. The TSA folks met us by the airplane, a charter JetBlue A320. We got luggage inspected and a full pat down prior to boarding.
This was my first time on the plane with the campaign, so I just followed Carl and Orson. Carl sat in the the fifth row and offered me the seat next to him. We were behind Miss Roberta and across the aisle from Orson and John Lehman. Cindy and John were in front of his mom. It appeared that he spent the entire flight with headphones on watching the various news shows on JetBlue's really cool video system.
The flight attendants served snacks and drinks during the short flight. I had just dozed off during the approach, tired I guess after several days intense preparations,when the pilot honored all the former Navy pilots on board with a really "firm" landing that jarred me abruptly awake.
Another Straight Talk Express whisked us away to the Hyatt downtown on the riverfront. Enroute I spoke with son Doug and brother Joe in the forward chamber; John, Cindy, several advisors and press went to the back. Everything had been arranged at the hotel for rooms and luggage. We were just told to be ready to go in the lobby at 8 AM.
Thursday morning, Carl, Orson and I left a little early in a separate vehicle. We were the advance team charged with warming up the crowd gathering at a hangar at Cecil Field where John had been Carl's and my commanding officer in 1976.
Again, an overflow and enthusiastic crowd. Orson spoke first giving an emotional account of his last days in Hanoi with John. Carl followed with an eloquent description of how Skipper McCain transformed Attack Squadron 174 from an average outfit at best, to an award winning example of efficiency and safety not just with effective management, but by inspirational leadership. I followed with a few words about John's leadership style from the perspective of a relatively recent Naval Academy graduate, a first look at how great leadership infects every aspect of a unit's performance. We then ran the video of the day while John and special guests made their way to the dais.
While the family was seated on stage left, John, Cindy and Florida Governor Charlie Crist worked the crowd line. John took the podium.
Interestingly John introduced his family on hand, now including daughter Sidney and son Andy, but I sort of thought he forgot to mention Gov. Crist who was seated on the other side of the dais with us. But then he launched into a long and really complimentary introduction of Crist all about the great state of Florida and its great leadership. Made us think twice with so much recent speculation on who will be the running mate.
The speech was sensational. Not just the rhetoric, but the delivery as well. We have seen John improve dramatically his skill with the teleprompter. He's always been good when he speaks extemporaneously, but with all the prepared stuff that he now must contend with, good teleprompter skill is essential.
I was fascinated by the big screen all the way in the back of the hangar, behind the crowd and in front of all the camera people. It scrolled down as he spoke, paused when he paused or reiterated. He actually corrected a couple of things as he read, and skillfully changed sight direction by randomly switching off to the HUD-like screens left and right near the podium.
The speech covered all the bases, but again emphasized his impressionable early years in the Navy and his POW experience. He also spoke at length about his tours in Jacksonville, especially with VA-174 which he referred to as his most satisfying tour in his Navy career. The crowd listened in rapt silence to much of the emotional early years stuff, then erupted regularly with applause and cheers for many of the issue oriented points.
After it was over, John descended into the crowd — he has turned down Secret Service protection. It appeared that everyone who wanted to shake his hand had the opportunity, so long long did he work the crowd line, as did Cindy and Gov. Crist. Those minutes gave me the opportunity to greet several old shipmates as well as introduce our son-in-law Scott to Orson, Carl, and John Lehman.
We eventually re-boarded the bus for the trip back to town. I had a wonderful conversation with John's mother, Roberta, everything from how she named her babies to Episcopal Church politics. She really is a remarkable woman.
At an intermediate stop, I spoke at length with Sidney, whom I had met in New Hampshire, and Andy, for the first time. They are really very nice and savvy people, kids from John's first marriage to Carol. Andy is the CFO of Cindy's family beer distributorship business in Arizona. It is really remarkable to see this large extended family so universally and avidly supportive of John's candidacy.
Once back at the hotel, I said goodbye, gathered my things, and got a rental car for the trip back to Pensacola. (Did make a slight detour to the Beach for another visit with Caz, Scott and our our new grandson, Robby. Susie has been there for a week helping out the new mom. Also worked in a short visit with my mom before heading back home today.)
Warm regards,
Bob