Stacy London and The Harbour League: You Are Invited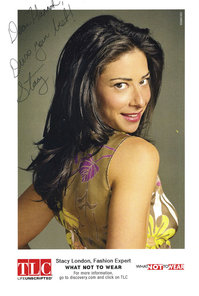 Stacy London This ad is not approved by The Harbour League.
Save the Date: May 13, 2008.
"Stacy London is co-host of The Learning Channel's What Not to Wear and has been with the show since its first season. After growing up in Manhattan, she graduated Phi Beta Kappa from Vassar College with a double degree in 20th-century philosophy and German literature."
Stacy London is a very bright young woman with a father almost as famous, Herb London.
[Stacy] began her career as a fashion assistant at Vogue magazine and later returned to Conde Nast as the senior fashion editor at Mademoiselle. She has styled fashion photos for other editorial publications, including Italian D, Nylon and Contents.
The Harbour League is hosting a star-studded event on May 13th in Baltimore, Maryland. Make plans to be there. Eli Gold runs the non-profit think tank and writes,
I want to make you aware of a very special evening that The Harbour League will be hosting. It is an evening that will give you a chance to meet and chat one-on-one with leaders of today's conservative movement.
America's Secular Challenge
Stacey Herb London
On May 13th, 2008 The Harbour League will host an evening with the board. This will be the first time that our entire board will be in one place at one time to answer your questions regarding today's conservative movement, where we are and where we are headed.

The Harbour League's Board of Trustees includes: Eli Gold, Chairman; Herb London, President of the Hudson Institute; Grover Norquist, President of Americans for Tax Reform; David Keene, President of American Conservative Union, as well as various other leaders in the movement.

The evening will begin at 7 pm (doors open at 6:30pm) with a talk given by Dr. Herb London entitled, "America's Secular Challenge: The Rise of a New National Religion". Dr. London will suggest that the rise of secularism in the United States is a flaccid response to the challenge presented by the fanaticism of radical Islam.

In the so-called war of ideas we are handicapped in our ability to thwart the inroads of fanaticism by a reflexive belief in relativism, one dimension of secular humanism.

The rise of secular humanism not only challenges the traditional antecedent of the nation, it is an ineffective response to the challenge of Islam.

The result? If you don't know what you believe in, you are unable to defend what is worthwhile. Something that if understood can change Maryland for the better.

Following the talk and question and answer session, there will be a dessert reception that will give you a chance to talk with any member of member of the board regarding the movement.

I also would like invite you to a private VIP dinner prior to the evening's event. For the first time we will open the board's pre-event reception and dinner to the first fourteen reservations.

The cost for dinner is $200 per plate (dinner is discounted for members). This is an opportunity to have an intimate dinner with these opinion leaders. So reserve your spot soon! Dinner reservations can be made by calling The Harbour League at 410-753-4560.

The presentation and dessert reception is free for Harbour League members, $5 for non-members. Please feel free to forward this invitation to your colleagues. A RSVP is highly recommended since seating is limited. Media covering this event should contact The Harbour League in advance.

I hope to see you at the event on May 13th.

Sincerely,

Eli Gold

Chairman
When you RSVP click "America's Secular Challenge."
Stacy London will not be there. Sorry for the bait and switch: Terrible marketing. My bad.
But her father, Dr. Herb London, will be there. Meet the proud papa and get a hint on why she is a success. And buy his book.
###
Thank you (foot)notes:
More on Stacy London at the jump
Your Business Blogger(R) and Charmaine and one of the Penta-Posse will attending — we hope to see you there!
UPDATE: Alert Readers noticed that Your Business Blogger(R) originally spelled Stacy as "Stacey." Error corrected and she provided a nice pub shot — a class act.

Stacy has worked with celebrities such as Kate Winslet, Katie Holmes and Liv Tyler. She has also consulted on fashion shows for designers like Rebecca Taylor, Vivienne Tam and Ghost.
Over the last three years, Stacy has worked on numerous advertising campaigns. Her client roster includes Hanes, Wonderbra, Bali, Procter & Gamble, Covergirl, Target, Levi Strauss & Co., Maytag, Swatch USA, Longines and, most recently, Calvin Klein.
She is frequent contributor to the Today show and she has also appeared on numerous national talk shows, including Oprah, Weekend Today, The Jane Pauley Show, The Early Show, American Candidate, Good Day Live and Access Hollywood.
In addition Stacy has appeared on such other TLC programs as America's Ugliest, with Doug Wilson, and Faking It.
Her first book on style by body type (co-written with Clinton Kelly), Dress Your Best, was published in September 2005 to stellar reviews.
Stacy speaks regularly on the subject of style, for corporations such as Starwood Hotels, and has given seminars at the Learning Annex in New York City. She has also been invited to speak at Harvard University on the connection between building self-esteem and personal style.
She resides in Brooklyn, New York, with her two fabulously fashionable cats, Moo and Al, and many, many pairs of stilettos. She continues to search for enough closet space.
Here's more About Stacy
A common fashion blunder:
Clothes that don't fit properly. Whatever you are trying to hide by wearing a feed sack only looks worse than it actually is.
A quick fashion fix:
A great pair of high heels, a good shade of lipstick and a stiff drink.
A personal fashion confession:
I wore sweater dresses with tube socks in seventh grade, and I had a hair cut that made me look like Robert Smith (the lead singer of The Cure). No, it was not a pretty time in my life.
Favorite rule of thumb:
If it doesn't match anything you own, don't buy it. It will never match anything you own.
Favorite accessories:
Fantastic vintage jewelry, sunglasses, moisturizer, and a cute boy styled by me.
Favorite splurge item:
Shoes from Christian Louboutin. A girl will just never truly know what it means to be a flirt without them. They are pure sex on a stiletto.
Favorite budget items:
Cetaphil for the face. Why spend more? This item does just fine!
Favorite part of WNTW:
Watching the participants when we take them shopping and when we put them in their first outfit. They all look so surprised that they look so good!
Funniest moment while filming WNTW:
Watching a participant make antlers with her hair in front of a mirror. We are usually bubbly and chatty and always ready with a comeback, but we stood there completely dumbfounded.