He is Risen; Where Would the Messiah Worship Today?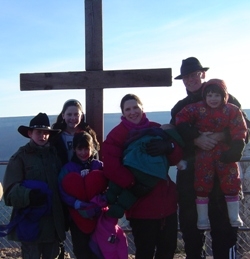 Charmaine, Your Business Blogger(R)
Penta-Posse at the Grand Canyon
Easter 2005 Disciplines of the Risen Christ celebrate the Empty Tomb on Easter Sunday.
A few years ago Alert Readers will recall that Your Business Blogger(R) with Charmaine and the Penta-Posse attended a Sunrise Service on the rim of the Grand Canyon in John McCain's home state. The Grand Canyon is Federal Property, but the surrounding locals quietly support a congregation of church and state.
Easter is a Red-State kind of celebration — even though Arizona is one-third blue.
So, is likely that Obama would permit a continuation of Easter Services on Federal Lands?
Would the leftist, blue-state messiah tolerate the red-state Messiah? The One without the teleprompter?
Obama ceased attending church regularly since the bungled swearing-in. But He attended Easter Services at nearby St. John's Episcopal.
Will the messiah choose St. John's? We may have a hint. He might be just as happy where the Clintons churched.
We know the church habits of Obama and the Clintons.
Obama attended the Hate America First church and was mentored by Jeremiah Wright for some two decades.
The Clintons attended Foundry Methodist church when they lived in the White House in Washington, DC.
Your Business Blogger(R) attended services a time or two at Foundry Methodist during the Clinton tenure. It is a liberal church that differs from Obama's Chicago church only by degree, not kind. I stopped visiting.
Your Business Blogger(R), John Wesley Yoest, now has little use for the church founded by John Wesley.
The United Methodists at Foundry have run off the Biblical rails,
"…we proclaim this statement of welcome our gay, lesbian, bisexual and transgender brothers and sisters: we affirm you…"
Obama and Clinton support liberal churches. Clinton's former church supports Obama's former church. It is likely He will continue to enjoy liberal theology.
It is certain Obama will support liberal positions in his pro-abortion-choice in the church chosen.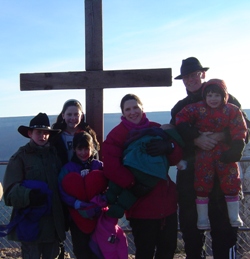 Sunrise Service, Grand Canyon
Photo Credit: The Dreamer
I would predict that the messiah will shut down Easter Services at the Grand Canyon.
And the president will be happy only in a pro-choice church.
Happy Easter.
###
Thank you (foot)notes:
Easter: He Is Risen; Family, Faith & Freedom
He is risen! He is risen indeed!