Hannah & John Yoest Take First Place in Triathlon


Please forgive the 'day-in-the-life' of Your (Insufferable) Business Blogger(R). Our two oldest offspring took home blue-ribboned medals at a triathlon.
Yorktown High School Students Win OuterBanks Triathlon
Hannah and John
Nags Head, NC. Sunday August 23, 2009, the Outer Banks Triathlon Club sponsored their annual Swim, Bike, Run Sprint Triathlon. Yorktown High School, Arlington, VA was represented by Hannah Yoest, 16, a rising junior and John Yoest, 14 a rising freshman. Each took home First Place medals for their age categories. There were 204 competitors who braved the threatening Hurricane Bill.
"The weather was perfect," says Hannah. "It was exhilarating – cloudy, low heat and sea air." Hannah had been training on her bike by riding to her driver's education class 7 miles a day and running to 6 miles her summer school classes.
Her brother, John was excited. "The bikes held up and the crowd was a blast." John had trained for the event with a 60-mile bike ride with his church group.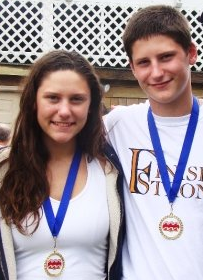 The Yoests participate in a number of team sports.
Hannah rows varsity crew at YHS and was named Most Valuable Rower in 2008 by her coaches. She was seated in First Boat last season.
John is a returning quarter back for the Freshman Football team. He also played Junior Varsity Baseball where he pitched a no-hitter as an 8th grader.
This was Hannah's third triathlon event. She completed the 26.2 mile Marine Corps Marathon at 14.
Hannah is Vice President of the Student Government Association for her junior class.
Parents Jack and Charmaine Yoest, Ph.D. are proud of their two oldest children's high school achievements. "They both have an inner drive and are self-motivated," says Jack, consultant and adjunct professor of business at the Northern Virginia Community College.
"It was their idea, they kept at us to take them back down to the Outerbanks for the meet," says Charmaine, CEO of the public interest law firm, AUL.
Jack and Charmaine have completed three marathons and attempt to take their five children where ever they travel. "Hannah and John are getting old enough now to compete in adult events – without us," says Jack.
"But," says Charmaine, "I wish they would clean their rooms…"
###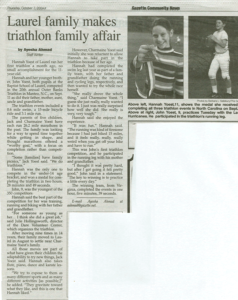 Ever see a woman cry for 4 miles?
Marine Corps Marathon training.
Hannah finishes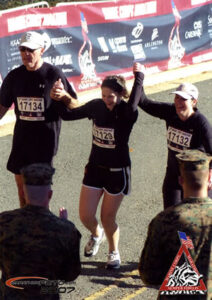 Follow Your Business Blogger(R) and Charmaine on Twitter: @JackYoest and @CharmaineYoest