The MillionDollar HomePage, Ten Years Later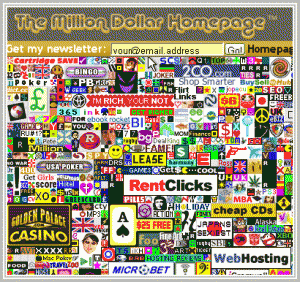 In 2005 Your Business Professor bought advertising space on a website.  I paid Alex Tew a hundred bucks.
I got no clients.
But all was not lost.
Alex Tew got a million dollars.
Seems about right.  Somebody was making money on content on the web.  It wasn't me.
Charmaine, my better half, was an early blogger and is now a CEO of a multimillion dollar law firm who has run marketing departments.  She knows business and so counseled me.  Here is an early blog post,
Microscopic Marketing and Marriage, an Update
The Ad:


This is an update on The Million Dollar Home Page. I was a skeptic. I succumbed. I'm a sucker. (For a Purple Cow.)
So last week I tell Charmaine, "I just bought ad space on The Million Dollar Home Page."
"Great!" she says. "We need to do some ad copy."
"…well, dear…"
"About time you advertised your blog." She gets out a pen, "What's the buy? Who's the reader? What's the…"
"Size…?"
"Yea, how big?" She asks, eyes a-glow.
"Small. But we make it up on Frequency! on Reach! on Awareness…!"
Charmaine stops smiling. "How small?"
"100 pixels. We're helping a young man get through college…"
Charmaine's eyes go dead. That look. Blank.
I'm in trouble, "Only 100 bucks. Buck a pixel, get it?! ha ha ha!"
Her look drifts into a 1,000 yard stare, common on combat veterans. Married veterans.
"What does 100 pixels look like?" she whispers.
"10 by 10 pixs." I do the math for her. It was not helpful.
"Show me." She murmurs. I'm glad she's talking.
"Here," I said. "It's….compact…"
(Scroll down…)
She's mentions the $45K for my MBA. "We'll have to consider the ROI, won't we?" I don't know if she's talking business school or ad buys. Or marriage. Hard to tell the difference.
I don't wait too many days for the answer.
This morning, Charmaine asked how my advertising program was going.
I mumble, "Three."
"That's 33 bucks a hit, huh?" She does the math this time. "A bit high, would you say?"
"John Wanamaker said that half of his marketing budget was wasted…" I launch into consulting mode.
"You did the wasted half." She's very good with a knife. Cutting to the truth.
I end the conversation. Like a man.
"Yes, dear."
Alex, the creator of the page reached $843,600 toward his goal of $1,000,000. There still some space left for you to buy.
But don't tell your wife.
Early this year Philip Bump wrote in the Washington Post,
There's a charm to spotting a faded advertisement painted high on a brick wall in a city. It's a time capsule of enticement that — particularly when it's advertising some defunct product — inspires you to stop in your tracks and think about the link between that moment and your own.

The Internet has its own version of that — with a couple of key differences. An ad for the sake of advertising, it made its creator a million dollars in a few short months. And unlike a faded ad for Stewart's Spot Remover, it's as bold and garish as it was the day it launched.

It is the Million Dollar Homepage.
It is charming now.  And a learning event.  I captured my experience as it unfolded. We called it "live blogging" back them.
Here's how it started:
Microscopic Marketing: The Million Dollar Homepage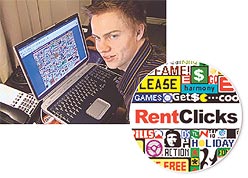 Alex Tew
in the WSJ
How can one get 700,000 hits a day? Alex Tew has the answer.
Blogs can be divided into Linkers and Thinkers. The Million Dollar Homepage might be a case study on both. On the same page.
And makes money.
Whenever I buy ad space, I am sensitive to the sales point about the size of the presentation. A 100 pixel ad placement would not be anyone's idea of a compelling pitch.
Until now.
The internet changes everything. Silly cliche.
Silly me.
The brainchild of Britisher Alex Tew was written up in The Wall Street Journal.
Alex topped $700K toward his goal of $1 million dollars by selling a pixel a buck.
A Market Genius. Alex is even selling in Dollars.
Not Pounds.
I jumped in with irrational-exuberant American Exceptionalism, Alex Tew named the site the Million Dollar-not Pound- Home Page. Smart guy.
Update: Marketing on the Million Dollar HomePage
So you're wondering: How's Jack's hundred bucks doing on The Million Dollar Homepage? From that Alex Tew brainchild Brit.
(email me if you can find my ad. I'll have to think of a prize.)
So. Here's where we stand:
I got 16 hits.
16. Is a small number. With great potential. I guess.
Alex got:
$918,100
That's a big number. And,
He's got some inventory remaining:
$81,900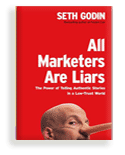 Are Liars
by Seth Godin
All marketing should be measured. I keep telling Charmaine that my microscopic marketing campaign will launch big numbers. Soon. Real Soon. Next quarter baby, it's coming, it's a lock…it…proves that Seth Godin is right?
All marketers are liars?
Not quite. All marketers tell stories.  And Alex Tew had a tale to tell: A promise of internet immortality.  Or five years, which is an eternity in www years.
Your Business Professor got in the pixel mania early. Think Tulips in Holland in 1636.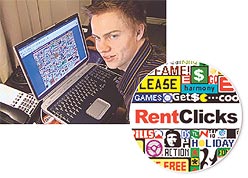 Alex Tew
in the WSJ Alex Tew is down to his last 1,000.
Pixels.
Demand high. Supply low.
What's a Capitalist to do?
eBay.
The American Way.
Even for our English cousins.
Alex is auctioning off his remaining inventory. The bid stands at:
Current bid: US $152,300.00
(Approximately £86,701.58)
Time left: 5 days 2 hours
10-day listing, Ends 11-Jan-06 18:42:28 GMT
Start time: 01-Jan-06 18:42:28 GMT
History: 151 bids (US $1.00 starting bid)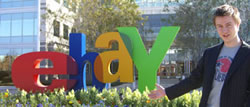 Alex Tew
at eBay HQ
Yes — That's $152,300.
My microscopic marketing investment of (only!) a hundred bucks is paying off. Bigtime.
21 hits.
My new best friend Alex sends me this update:
Hi Jack,

I thought you'd like to hear my big news: I've almost hit the million dollar mark! I say "almost" because there are still 1,000 pixels available, and due to exceptionally high demand, I'm auctioning them off on eBay:

http://cgi.ebay.co.uk/ws/eBayISAPI.dll?ViewItem&item=5652179487&ssPageName=ADME:L:LCA:UK:31

MillionDollarHomepage.com has received over 1 million unique visitors in the last 48 hours due to a surge in international media coverage (Reuters, CNN, ABC, BBC etc.) which has caused demand for pixels to outstrip supply by a huge amount. Therefore auctioning the last 1,000 pixels on eBay seemed like the best option.

Find out how things have unfolded in the past few days on my blog at

www.milliondollarhomepage.com/blog.php

Oh, and happy new year!

Cheers

Alex Tew

The Million Dollar Homepage
The chirpie Brit.
And yes, I'm cheering for him.
So here are the results,
Million Dollar Home Page Will Best 1 Million USD
MicroScopic Marketing On the MillionDollarHomePage

The MillionDollarHomePage
Alex Tew set up a web page of a 1,000,000 pixels;
selling each pix
for $1. Alex has auctioned off his last 1,000 pixels for $38,100 US and explains that:
… officially all one million pixels on the homepage have now been sold, with total income standing at US $1,037,100 – not bad for less than 5 months work!
In December CharmaineYoest.com bought into the frenzy with a $100 ad campaign.
Here's my ad:

Alex assures me:
If [the] pixel page has any lasting value in online marketing, … it's that "very small ads have some sort of future."
Small indeed. So far, for Your Business Blogger(R): small ad = small number. Tally to date, total visits to CharmaineYoest.com from around the world, referred to me by The MillionDollarHomePage have been quite modest.
The MillionDollarHomePage has received 2.7 million page views. Click thru's to Your Business Blogger(R):
36
Not quite the ratio I had hoped for.
Wife Charmaine is still not convinced of the brilliance of my MicroScopic Marketing.
But I'm still hangin' with Tew, my MillionDollarHomePage Homie.
This will go on for years. Tew promises the page will remain up for half a decade. I'll keep you informed.
Maybe something will hit.
Maybe.
Philip Bump closes his WaPo article,
"I think it would be fun to leave it online as a relic," Tew said when we spoke. "It's almost like a time capsule. The ads and the idea represent a time gone by. It's a relic. A piece of art maybe."

"Art" is overselling it. But maybe our kids, wandering the Web, will come across it and feel differently. What was this "Golden Palace Casino," they'll wonder, shaking their heads in amazement at the weird, wonderful past, at its customs and gimmicks that were just completely adorable.
###
Was this helpful? Do comment.
Be sure to follow @JackYoest on Twitter
And Alex Tew is on Twitter. Of course
Here are the Thank you (foot)notes from the blog posts:
The Million Dollar Homepage has a blog. Of course.
Be sure to visit the testimonial page. Goodness, it's good. Perfect for the skeptic. Like me.
Hat tip for the linkage to The Club For Growth.
California Conservative has weekend open posts.
Political Teen has open track backs.
Basil's Blog has breakfast.
See Blogging ROI at Forrester.
And this terrible news from The Million Dollar Blog
Tuesday 17th January 2006

Site downtime, DDoS attack

I can confirm that MillionDollarHomepage.com has been subjected to a Distributed Denial of Service (DDoS) attack by malicious hackers who have caused the site to be extremely slow loading or completely unavailable since last Thursday, 12th January 2006.

I can also confirm that a demand for a substantial amount of money was made which makes this a criminal act of extortion. The FBI are investigating and I'm currently working closely with my hosting company, Sitelutions, to bring the site back online as soon as possible. More news soon.
GenericGeek has more on the blackmail.
The VoIP Blog predicted wild fluctuations in the eBay bidding.
Basil's Blog has picnic links.
Seth Godin has Rulebreakers and Makers.
Joe Grossberg has analysis and an excellent suggestion.
The brainchild of Britisher Alex Tew was written up in The Wall Street Journal.
The Million Dollar Homepage has a blog. Of course.
Be sure to visit the testimonial page. Goodness, it's good. Perfect for the skeptic. Like me.
Hat tip for the linkage to The Club For Growth.
Political Teen has open track backs.
The Marketing Pilgrim asks the key question.
Web Feet PR has the before and after shots.
Full Disclosure: Your Business Blogger(R) aka Your Business Professor teaches marketing management. With a terrific track record in ad buys.