November 20; Can Women Have It All As Mothers And Managers? MANAGEMENT BY THE BOOK:365 Daily Bible Verse &One-Minute Management Lessons For The Busy Faithful


20 November
Your adornment must not be merely external—
braiding the hair, and wearing gold jewelry, or putting on dresses;
but let it be the hidden person of the heart,
with the imperishable quality of a gentle and quiet spirit,
which is precious in the sight of God.
1 Peter 3:3-4
Can Women Have It All As Mothers And Managers?
Bodily Integrity
I dropped by a co-worker's office; a good o' boy; a man's man. He has that risk-taking, commanding confidence as Harvard professor Harvey Mansfield describes in his book Manliness.
My friend was out for a day for surgery and was soon back at work. It is an established fact among Real Men that recuperation after a major procedure is best done at one's place of business in his office.
I asked him how'ze it going. He grunted and mumbled and his shoulder went up in a micro-shrug.
I nodded knowingly. I return-grunted, "How about 'dem Redskins?" He snorts. And we set up lunch.
His surgery was a success. I only know this from Charmaine who found out through his wife.
This is how men share. Women, however, are a completely different gender. Women will tell-all about surgery in tell-all books targeted to other wanna-be feminist leaders.
"It is not always helpful to share too much," say men.

"You cannot share too much," say women.
Professor Mansfield describes, "three ways of transcending sex difference: repressing the difference between male and female…ignoring the difference…and respecting the difference."
***
It is a cut-throat climb to the top of any organization, many believe.
Some male managers mistakenly will go through multiple women and dropping wives like flies devoting considerable mental-buffer space to making money.
Men will eliminate any distraction; cut off relationships to advance careers. Women also remove distractions. They cut off body parts.
***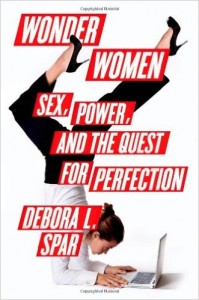 Debora L. Spar, Ph.D. was one of the youngest tenured female professors at Harvard University.
Happily married with three children, she advises young feminists how to succeed in a male dominated world. Dr. Spar is a success by any measurement.
She feels the need to share (giving us far too much information).
Dr. Spar writes on her early teenage struggles with body image and anorexia, which helps her connect with troubled female millennials.
She tells a story at the beginning of her career, where,
…[M]y body focus had shifted to my breasts, the now indisputable 36DDD behemoths I lugged around with me. There was no blouse that would fit over these things, no man who could look me in the eye while they towered below…

One day, fresh out of college and reveling in a just-completed job interview, I was walking through National [now Reagan] Airport in Washington [D.C.]. I had my sensible college-graduate suit on, my sensible low-heeled shoes, my graduation –present briefcase.

I looked up, and there was a man staring at me.

A very handsome man, the kind of distinguished, enigmatic, maybe-he's-a-spy-man I hoped would start appearing in my life.

We passed each other. Our eyes met. "Wow, babe," he whistled. "What a pair of [breasts]!

That was it. Six months later, I found a plastic surgeon and had them cut off—or "reduced," as they say.

The doctor thought he was being kind. "Once we get rid of these, " he promised, "You'll look so much slimmer. Maybe not quite like a ballet dancer, but we'll try to get close."

So tell me. If men can't keep their eyes off our breasts, why do they want us to look like ballerinas? And why do I still care (Spar, 2013)
Her book, "is a study of how we thought we could have it all and why, in the end, we cannot."  She wisely writes that the pursuit of perfection is not helpful–even as she rejects her own bodily "imperfections."
Spar made the cut and advanced up the success ladder. She is now president of Barnard College in New York City. She is an Amazon role model.
Your adornment must not be merely external—braiding the hair, and wearing gold jewelry, or putting on dresses; but let it be the hidden person of the heart, with the imperishable quality of a gentle and quiet spirit, which is precious in the sight of God. 1 Peter 3:3-4
###
Debora L. Spar, Ph.D., Wonder Women: Sex, Power, and the Quest for Perfection, 2013
Harvey Mansfield, Ph.D., Manliness, 2007