February 27; Who Can Balance An Exalted Dictatorship And Civic Virtue? MANAGEMENT BY THE BOOK: 365 Daily Bible Verse & One-Minute Management Lessons For The Busy Faithful


27 February
For all those who exalt themselves will be humbled,
and those who humble themselves will be exalted.
Luke 14:11
Who Can Balance An Exalted Dictatorship And Civic Virtue?
Humility
"I'll match my humility against anyone…," the anonymous manager.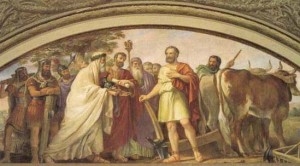 The simple farmer was plowing his field. But when ancient Rome was threatened by three powerful armies the government cast about looking for a leader. The Eternal City needed a man who could general the army to defend Rome from invasion.
Lucius Quinctius Cincinnatus had occupied a high position of great esteem. But there was political trouble involving his son that bankrupted the family and The Great Man was reduced to poverty tilling the soil.
However, when the state was in danger the people turned to a leader with a track-record of success. Cincinnatus was returned to power and installed as dictator. As the commanding general he stopped the invasion and defeated Rome's enemies.
This story is not an example of where the talent pool of leaders is shallow and has been since Cincinnatus circa 500 B.C.. Or that a leader can be re-called from humiliation and obscurity to assume a powerful position.
The real story was that the he won the war, accepted the thanks of a grateful people, then he stepped down. Cincinnatus is history's prime example of civic virtue where he answered the call, won the war then willingly, humbly left the highest office. He really didn't need the position or title.
This is Luke 14:11, For all those who exalt themselves will be humbled, and those who humble themselves will be exalted.
Cincinnatus was able to maintain his influence even while he was not working at it. It would seem that he really didn't want the job of General. Today the best senior managers do not always jockey for position climbing on backs or back-stabbing up the org chart. Leaders never make it look like they are lusting or lobbying for the step-up.
Individuals must have the desire for management responsiblity. And yet be humble. Cincinnatus is our historical example.
###