July 16; Mathematics That Every Leader Masters MANAGEMENT BY THE BOOK: 365 Daily Bible Verse & One-Minute Management Lessons For The Busy Faithful


Chapter Seven: Power; 16 July
To the weak I became weak, to win the weak.
I have become all things to all people
so that by all possible means I might save some.
1 Corinthians 9:22
Mathematics That Every Leader Masters
Coalition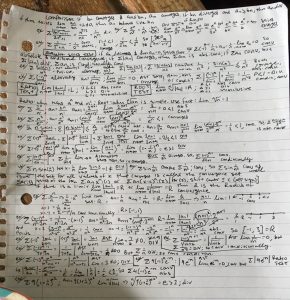 Charmaine, President and CEO of Americans United for Life, is in the business of protecting life in law. The country and lawmakers are nearly evenly divided between the labels of pro-life and pro-choice.
But every year AUL manages to pass some 30 pieces of legislation across the nation. This means that she gets the support of pro-choice legislators who support abortion.
These abortion supporters vote for pro-life laws that would reduce the number of abortions.
It seems that the pro-choice lawmakers are voting against their own re-election interests and the interests of their constituents.
How does pro-life Charmaine get the support of pro-choice lawmakers?
Consultants Tom Peters and Robert Waterman, Jr. tell us how this leadership begins In Search of Excellence,
Leadership is many things. It is patient, usually boring coalition building. It is the purposeful seeding of cabals that one hopes will result in the appropriate ferment in the bowels of the organization.

It is meticulously shifting the attention of the institution through the mundane language of management systems. It is altering agendas so that new priorities get enough attention. It is being visible when things are going awry, and invisible when they are working well.

It's building a loyal team at the top that speaks more or less with one voice. It's listening carefully much of the time, frequently speaking with encouragement, and reinforcing words with believable action. It's being tough when necessary, and it's the occasional naked use of power—
All politics, whether office- or elective-, works on the power of simple arithmetic: addition and multiplication; not subtraction or division. Charmaine united her non-profit team behind a profitable strategy and then expanded this "boring coalition building" across the great ideological divides. It should be noted that she did not solve The Big Problem. Charmaine solved little problems.
Management Professor Henry Mintzberg reminds us that the best managers seldom resolve anything—they reconcile. He quotes Chester Barnard in his classic 1938 work, The Functions of the Executive, "It is precisely the function of the executive . . . to reconcile conflicting forces, instincts, interests, conditions, positions and ideals." Barnard's work in management and in organizational behavior taught us that the reconciling starts inside the organization.
If the leader cannot manage inside the company, s/he probably will not be able to manage outside; between organizations.
The real professional takes this talent uniting factions inside the company and on to aligning interests outside the company.
Charmaine performed simple addition to get the votes of pro-choice elected officials. Her team of legal experts would draft laws that would have overwhelming popular support—that the politicos could not ignore or vote against.
For example, her organization, Americans United for Life, AUL, would craft common sense laws on parental notification for minors who would want an abortion. A legislator or pro-choice ideologue might support abortion on demand. But even a pro-choice mother would like to know if her daughter was going to get an abortion. Yes, dear child, have the abortion, but do let your mother know about a clinical procedure. To a parent, there is no minor surgery on a minor child.
Paul writes in 1 Corinthians 9:22, To the weak I became weak, to win the weak. I have become all things to all people so that by all possible means I might save some. To explain, Dr. Randy Yeager quotes Robertson, Grammar, (page 1199), "There was never a more nimble mind than that of Paul, and he knew how to adapt himself to every mood of his readers or hearers without any sacrifice of principle. It was no declaimer's tricks, but love for the souls of men that made him become all things to all men." Yeager continues,
…preachers have gone astray on both sides of Paul's policy. Some, with an unnecessary application of principle which they regard as Puritanical, have been aloof and unapproachable, with the result that they have acquired a reputation for a "holier than thou" attitude.

Thus their influence has been truncated. Others have become everything to everyone, even when to do so meant a blatant disregard for principle. Thus though they won all men they did not win them to anything.

How to compromise the non-essential in order to preserve the essentials of the gospel is a problem to be solved only by a constant communication with the indwelling Holy Spirit.

Paul was not a "Holy Joe" but his unsaved friends were not afraid to associate with him and they respected him for his convictions and were interested in the gospel which he preached.
And so Charmaine would secure votes across political canyons. Soon the number of abortions would go down in the lawmaker's jurisdiction. It seems that even the presence of the law, that which requires telling your mother, would decrease the number of abortions. This would advance Charmaine's organization's effectiveness; she would accomplish her goal: to protect life in law.
###
Chester Barnard, Managing Mintzberg page 158 1(938:21). Mintzberg writes, "Notice his use of the word reconcile, not resolve."
Coalition building, In Search of Excellence Tom Peters and Robert Waterman, Jr., quoted in The Wall Street Journal Essential Guide To Management, Alan Murray, HarperBusiness © 2010 page 15.
1 Cor. 9:22, Randolph Yeager, The Renaissance New Testament Volume 12, page 542.