Why Were You Really Hired? The Two Qualities That Count


Many factors were considered when you were hired. Including your particular set of knowledge, skills and abilities.
And competence was certainly the first hurdle you cleared when you were brought on payroll.
But it wasn't the real reason.
Henry Ford once said:
If you take all the experience and judgment of men over fifty out of the world, there wouldn't be enough left to run it.
This doesn't mean only post-fifty geezers have what it takes to run the world. It means that there are two necessary characteristics to lead and manage significant processes, projects, or people.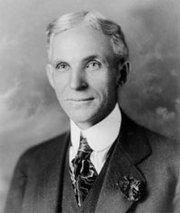 Henry Ford 1919Ford suggests that experience and judgment are the only two reasons to hire anyone.
Ford, famous for the assembly line and interchangeable parts, knew that, in contrast, management talent was not a commodity. Management talent was, and remains unique.
No matter what your age, the emphasis in hiring — as hire-ee or hire-or, should be wisdom. The ability to think.
You got hired for your experience and your judgment.
In your next hire, go thou and do likewise.
###
Was this helpful? Do comment.
Consider a free eMail subscription for this site.
Thank you (foot)notes:
Basil's Blog has dessert.
Ford quote from Old Age is Always 15 Years Older Than I Am, by Randy Voorhees.