Update: Marketing on the Million Dollar HomePage


Update: Marketing on the Million Dollar HomePage
So you're wondering: How's Jack's hundred bucks doing on The Million Dollar Homepage? From that Alex Tew brainchild Brit.
(email me if you can find my ad. I'll have to think of a prize.)
So. Here's where we stand:
I got 16 hits.
16. Is a small number. With great potential. I guess.
Alex got:
$918,100
That's a big number. And,
He's got some inventory remaining:
$81,900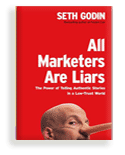 Are Liars
by Seth Godin
All marketing should be measured. I keep telling Charmaine that my microscopic marketing campaign will launch big numbers. Soon. Real Soon. Next quarter baby, it's coming, it's a lock…it
…proves that Seth Godin is right?
All marketers are liars?
###
Was this helpful? Do comment.
Consider a free eMail subscription for this site.
Thank you (foot)notes:
The Marketing Pilgrim asks the key question.
Web Feet PR has the before and after shots.
Full Disclosure: Your Business Blogger(R) is a marketing consultant. With a terrific track record in ad buys.