Million Dollar Home Page Will Best 1 Million USD


Million Dollar Home Page Will Best 1 Million USD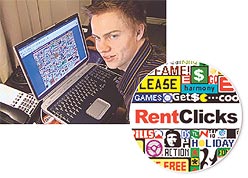 Alex Tew
in the WSJ Alex Tew is down to his last 1,000.
Pixels.
Demand high. Supply low.
What's a Capitalist to do?
eBay.
The American Way.
Even for our English cousins.
Alex is auctioning off his remaining inventory. The bid stands at:
Current bid: US $152,300.00
(Approximately £86,701.58)
Time left: 5 days 2 hours
10-day listing, Ends 11-Jan-06 18:42:28 GMT
Start time: 01-Jan-06 18:42:28 GMT
History: 151 bids (US $1.00 starting bid)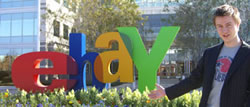 Alex Tew
at eBay HQ
Yes — That's $152,300.
My microscopic marketing investment of (only!) a hundred bucks is paying off. Bigtime.
21 hits.
My new best friend Alex sends me this update:
Hi Jack,

I thought you'd like to hear my big news: I've almost hit the million dollar mark! I say "almost" because there are still 1,000 pixels available, and due to exceptionally high demand, I'm auctioning them off on eBay:

http://cgi.ebay.co.uk/ws/eBayISAPI.dll?ViewItem&item=5652179487&ssPageName=ADME:L:LCA:UK:31

MillionDollarHomepage.com has received over 1 million unique visitors in the last 48 hours due to a surge in international media coverage (Reuters, CNN, ABC, BBC etc.) which has caused demand for pixels to outstrip supply by a huge amount. Therefore auctioning the last 1,000 pixels on eBay seemed like the best option.

Find out how things have unfolded in the past few days on my blog at

www.milliondollarhomepage.com/blog.php

Oh, and happy new year!

Cheers

Alex Tew

The Million Dollar Homepage
The chirpie puke.
And yes, I'm cheering for him.
###
Was this helpful? Please comment.
Consider a free eMail subscription.
Thank you (foot)notes:
Joe Grossberg has analysis and an excellent suggestion.
The brainchild of Britisher Alex Tew was written up in The Wall Street Journal.