Microscopic Marketing and Marriage, an Update


Microscopic Marketing and Marriage, an Update
My ad:


This is an update on The Million Dollar Home Page. I was a skeptic. I succumbed. I'm a sucker. (For a Purple Cow.)
So last week I tell Charmaine, "I just bought ad space on The Million Dollar Home Page."
"Great!" she says. "We need to do some ad copy."
"…well, dear…"
"About time you advertised your blog." She gets out a pen, "What's the buy? Who's the reader? What's the…"
"Size…?"
"Yea, how big?" She asks, eyes a-glow.
"Small. But we make it up on Frequency! on Reach! on Awareness…!"
Charmaine stops smiling. "How small?"
"100 pixels. We're helping a young man get through college…"
Charmaine's eyes go dead. That look. Blank.
I'm in trouble, "Only 100 bucks. Buck a pixel, get it?! ha ha ha!"
Her look drifts into a 1,000 yard stare, common on combat veterans. Married veterans.
"What does 100 pixels look like?" she whispers.
"10 by 10 pixs." I do the math for her. It was not helpful.
"Show me." She murmurs. I'm glade she's talking.
"Here," I said. "It's….compact…"
(Scroll down…)

My Ad
She's mentions the $45K for my MBA. "We'll have to consider the ROI, won't we?" I don't know if she's talking business school or ad buys. Or marriage. Hard to tell the difference.
I don't wait too many days for the answer.
This morning, Charmaine asked how my advertising program was going.
I mumble, "Three."
"That's 33 bucks a hit, huh?" She does the math this time. "A bit high, would you say?"
"John Wanamaker said that half of his marketing budget was wasted…" I launch into consulting mode.
"You did the wasted half." She's very good with a knife. Cutting to the truth.
I end the conversation. Like a man.
"Yes, dear."
Alex, the creator of the page reached $843,600 toward his goal of $1,000,000. There still some space left for you to buy.
But don't tell your wife.
The original post: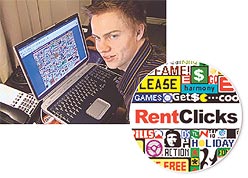 Alex Tew
in the WSJ
How can one get 700,000 hits a day? Alex Tew has the answer.
Blogs can be divided into Linkers and Thinkers. The Million Dollar Homepage might be a case study on both. On the same page.
And makes money.
Whenever I buy ad space, I am sensitive to the sales point about the size of the presentation. A 100 pixel ad placement would not be anyone's idea of a compelling pitch.
Until now.
The internet changes everything. Silly cliche.
Silly me.
The brainchild of Britisher Alex Tew was written up in The Wall Street Journal.
Alex topped $700K toward his goal of $1 million dollars by selling a pixel a buck.
A Market Genius. Alex is even selling in Dollars.
Not Pounds.
###
Was this helpful? Do comment.
Consider a free eMail subscription for this site.
Thank you (foot)notes:
The Million Dollar Homepage has a blog. Of course.
Be sure to visit the testimonial page. Goodness, it's good. Perfect for the skeptic. Like me.
Hat tip for the linkage to The Club For Growth.
California Conservative has weekend open posts.
Political Teen has open track backs.
Basil's Blog has breakfast.
See Blogging ROI at Forrester.