7 Steps in Making Money at Trade Shows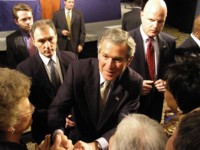 George Bush at a previous
NRB Convention
In Your Business Blogger's ongoing attempt to keep The Little Woman out of Nordstroms, I dispatched her to Dallas. For a trade show.
Charmaine's exhibiting at the National Religious Broadcasters Convention. With 6,000 of her closest show-bizie friends.
But I don't want her to waste her time. So here's a review for her. And you, too, if you like.
1. Why Are We Here? The best reason to buy exhibit space at a trade show is to meet decision makers and key influencers face-to-face. The best close rate is IRL. The trade show exhibit is where marketing meets sales. Good marketing will bring prospects to the booth; good sales will start and/or close the deal — open the account. The only reason people are there is to pitch or be pitched.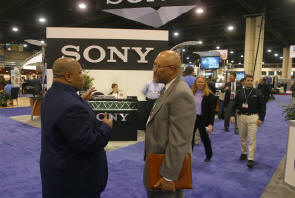 Meet and Greet
The sales presentation should be memorized. Exhibitors should take no more than three minutes to preform a sales presentation. Once you start with a single person, a crowd will gather. But before you start…
2. Get Professional Help. Assign a point man, go to guy.
Large company = event planner; Medium company = marketing guy;
Little company = consultant.
Thinly Capitalized Tiny companies with no budget = free consultant. To get advice and ideas use an expert at no charge. Schmooze the advertising and promotional products sales representative who's selling you your imprinted swag, the stuff we all get. That rep makes a living designing programs that sell. His advice is not free — it comes with the cost of the goods sold. But you can get a lot of advice and ideas with no "budget." The point man will either be, or will assign the booth captain — to set manning schedules to work the booth and exhibits. And be sure to cover the…
3. Logical Logistics. Thick carpet to cover the concrete floor; unwrapped candies — M&M's in a dispenser is my favorite; a DVD running continuously — a movie, movement catches the eye. Watch the heavy lifting: many convention centers are run by union thugs workers — your event planner will know what you can get away with. Be sure to get a trash can and the nightly vacuuming ordered. Don't eat at the booth. (Decades ago we used to say 'Don't Smoke' at the Booth.) Stand in the booth — sit someplace else. Electrical outlets needed? Parking passes? Once you master attention to details you can then be the…

address to
the 1984
NRB Convention
4. Center of Attention. No all trade show attendees attend to get drunk. At least not at the NRB. Except, maybe the Episcopalians. Anyway, the biggest (claimed) reason to show up is education. To learn what's new in trends. Learn in-side how-to secrets. Learn from the Big Dogs. If you have the budget, sponsor a class. But even better would be to be the teacher, panelist, moderator, discussant at a seminar or breakout session. The perceived expert, class leader will get the leads. But be careful about…
5. Propaganda. Take aways to take home? No. Do not hand out literature at your trade show. It won't survive the airplane ride home. Remember, your purpose is to make a friend. Make an appointment. Make a deal. All that paper only makes a mess. If the prospect is in real pain for (your) solution, he can retrieve the info from your website and blog. But you make an appointment. To see the prospect. Remember: Face to Face has the highest close rate. And it continues with…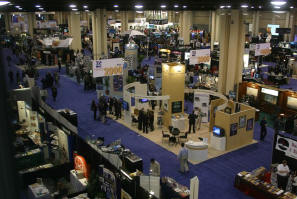 Working the exhibit floor

6. Follow Up. A hand written thank you note with a fountain pen on fine card stock delivered by snail mail will astonish your new friend. (This is the only value today for the Postal Service.) Then follow up. Follow up to meet. This will improve your…
7. ROI. Return on Investment. Run the funnel with number and dollars. For example, if the trade show had 6000 attendees, your booth 600 visitors, generating 200 leads, getting 100 sales presentations, producing 25 sales. If the trade show cost $25K, then each sale 'cost' $1k. Would the trade show be worth it? Maybe not. You need to justify the marketing expense with sales numbers and results. With this information you might spend the budget on other marketing and sales strategies. Even if you have to miss some great speeches.
I am an enthusiast for Trade Shows. But the purpose is to sell.
Marketing is what you do when you don't have anyone to see and sell to. Trade shows are marketing vehicles.
Make sure the vehicle is convertible to sales.
###
Follow Jack Yoest @JackYoest
Was this helpful? Do comment and ask me what Charmaine got done at her trade show.
Consider a free eMail subscription for this site.
Thank you (foot)notes:
anthonycoppedge.com church tech blog is attending the conference
Stacy Harp has background.
Indy Christian has more.
Full Disclosure: Your Business Blogger has an interest in a number of advertising and promotional companies; in both distributors and suppliers.
More on the NRB Convention and Exposition at the jump.
Seth Godin has more.

What is the NRB Convention & Exposition?
The NRB Annual Convention & Exposition is the largest nationally and internationally recognized event dedicated to assist, train and network professionals in Christian communications. The convention is a "must attend " on the broadcast industry's calendar, serving as the best way to meet with and speak directly to top management in Christian communications.

The acclaimed Exposition, featuring nearly 300 companies, is an active marketplace of tools and services to expand and enhance your ministry. It's worth more than one visit!

Whether you are a broadcaster, media pastor, program producer or other communications professional, the breadth and depth of opportunities of the convention will provide you and your staff with the skills and knowledge required to overcome the daily challenges you face. These opportunities include intensive Boot Camps, vital educational sessions, inspiring keynote addresses and ministry from internationally known speakers and artists, the peer-driven Innovation Exchange, the crucial leading-edge information found in the award-winning Exposition, and the ever-expanding Job Fair.

Who attends the convention?

* Radio Stations & Networks

* TV Stations & Networks

* Program Producers

* Church Media Staff

* Communications Agencies

* Communications Support Services Staff

* Internet Hosting Services Staff

* Ministry Leaders

* Communications Faculty and Students

* Publishers

* Pastors

* Others interested in communications and media

Education and Training

We are continually developing the pages under Education, so make sure you bookmark that section. NRB's Boot Camps are all-day, intensive, hands-on training sessions that delve into major categories of interest to the industry. Additionally, the convention presents more than 40 educational sessions on Monday and Tuesday that promise to challenge you and send you home with ideas that will change the way you work.

The NRB TECH LAB!

NRB Tech Lab moves down to the exhibit floor in 2006. Take advantage of the hands on equipment presentations from companies like Ross Video, Grass Valley, Sony, Apple, Cannon, and many others.

No one brings together equipment manufactures for side-by-side demonstrations like you will see in the NRB TECH LAB!

See side-by-side comparisons of cameras, video editing suites, and other system components that will enhance your own facility and bring you up to par with today's demanding production requirements. This lab will help you make the best choices for your media production. In the words of a leading ad campaign…it's priceless!

Innovation Exchange

This is a hotbed of lively discussion and innovative thinking! The peer-led session features dozens of small groups meeting around a spectrum of topics relative to some of the most pressing issues facing communicators and ministry leaders. Come with a situation, leave with a solution!

Exposition

Our exhibit hall is packed with the resources you are looking for as a communications professional. Make more than one or two rounds to ensure you receive the best benefit from the expansive floor. See the latest equipment and talk to representatives from leading companies such as Panasonic, Sony, JVC, Ikegami, Armstrong, Harris … and nearly 300 others! From revitalizing ideas to revolutionary equipment, the Expo has it all!

General Sessions

The biggest names in ministry and music appear during the convention's General Sessions. Many of them are available for interviews and press conferences through the Media Center.

Job Fair

Making a move? Looking for top-notch employees? The NRB Job Fair attracts dozens of companies, ministries and churches looking for communications professionals. Many hire on the spot. Come with your resume … or your list of vacancies!