Junior Varsity Baseball Tryouts by John Wesley Yoest III


This is a guest post by John, The Dude. It was my Father's Day gift. Better than a tie.
Two points:
1) His self-confidence and self-esteem does not surprise anyone, and
2) John is the only teenager in our neighborhood who knows how to handle a lawnmower, leaf-blower and edger.
Somehow the two are related.
***
Junior Varsity Baseball Tryouts by John Wesley Yoest III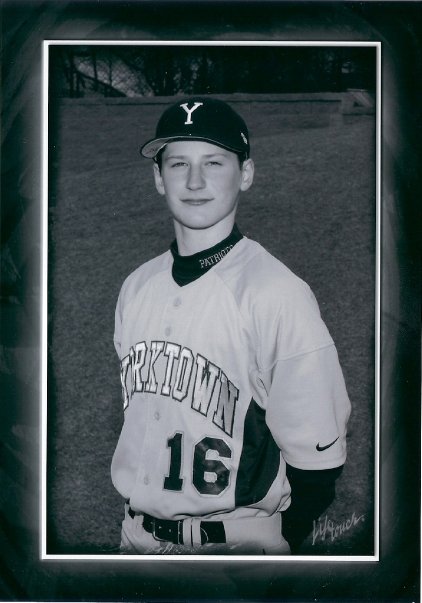 I can't sleep. It is the night before my big tryout and I cannot sleep. I have thrown and hit today, so I feel exhausted. Yet I cannot find the comfort of sleep. My mind keeps racing! Baseball, it is all I can think about. Will I do well? Will I make it? What if, what if, what if? I can't sleep.
Yorktown High School has a peculiar policy on certain sports, which allows 8th graders to try out for Freshmen/JV teams. Since Arlington Middle Schools don't offer certain sports like baseball or football, Yorktown allows 8th graders to participate in High School sports. JV baseball has the highest competition. Over 60 people try out for a team that might take 22. Generally, the JV team takes one, maybe two eighth graders. My odds of making it were slim at best.
Despite the odds, I began my preparation for the tryouts with complete dedication. I got cut from the Middle School basketball team. So instead of dribbling and shooting lay-ups I took ground balls and hit soft-toss. I began in early November. Six days a week for the next five months I practiced baseball. Anything and everything: if it involved a baseball, I practiced it. My dad and I developed a little motto: "A little bit every day, makes you better and better, in every way." It might sound a little corny; but it worked for me.
When it began to snow, I took practice indoors. This was not easy to do at all. My dad would toss ground balls to me inside our living room! I can't even count how many lamps, glasses and cups we broke that winter. Eventually my mom kicked me out of the house. Determined to get better, I threw the baseball with my dad in the snow. My neighbors thought we were crazy. But I was on a mission.
The largest thing that kept me going through these tough practices was my dad. Every day he would remind me to do some drills. Some days I felt awful. I didn't want to practice, or I was just plain tired. My dad didn't want to hear any of that nonsense. Rain or shine, feeling good or bad, we found some way to keep working.
I got sick after practicing out in the rain and cold. It was just a little coughing and sneezing, but I felt really bad. All I wanted to do was sit in bed and sleep. I remember getting in bed with chicken noodle soup, and feeling like I never wanted to get out ever again. Instead of going out and doing the drills, my dad brought the drills to me. I sat in bed and tossed the baseball against the wall. I did this for hours. When I couldn't run and jump, I practiced my hand quickness. Just simply tossing the ball around in my glove. It might seem a little silly and repetitive, but I've seen countless routine plays messed up by a bad glove to hand transition.
Basics are the most fundamental parts of baseball. That's what I practiced the most. I didn't practice the diving plays in the outfield, or the ridiculous backhand catches. I practiced fielding ground balls and catching easy pop-ups. Those simple, easy fundamentals will make you a great player. With time, those ESPN highlight tape plays will appear, but if you can't field a normal ground ball, I realized I'd never become great. Or even make the team.
Without even realizing it, February came around. I kept getting better and better, stronger and faster. But on Valentine's Day, it all turned around. My mom was diagnosed with cancer on February 14. This was only a few short weeks before my tryout. The pain and devastation I felt when I was told nearly ruined me. For the first time, I did not want to keep on practicing. I felt weak and destroyed. But my parents were still there for me.
My mom sat with me and talked with me. I was certainly sad and I couldn't imagine the thought of her losing her hair. She told me not to worry. She said she would be fine. The biggest thing she said to me however, was that she wanted me to keep on practicing, and to make the JV team. . . for her.
The very next day, you can imagine I was working as hard as ever. I ran, I hit, I ran even more. I did not stop. I could not afford to be cut. I threw every single day with my dad. On Sundays, we went to the track to run. The intensity picked up, until the day before the tryout.
The Sunday before the tryout my dad talked with me. The tryout was in less than 24 hours. I remember it so clearly in my mind. My dad told me he was proud of me. He told me he loved me and always would. But he looked pained. He told me that today was the last day he could be my coach. I almost cried because I knew it was true. I had grown up. I was trying out for High School Baseball. My dad said he couldn't keep up with me, and that whether or not I made the cut, I had grown up beyond his level of expertise. He said we could still do drills and such, but today was the last day. At that moment, I knew I was ready.
I shined my cleats, I oiled my glove, and I bought loads of sunflower seeds. I stashed my glove underneath my bed for good luck, and I laid out all of my gear in my room. I had all of my sets of baseball pants with belts set out in a row, with baseball shirts corresponding to each. You know what they say: An ounce of appearance is worth a pound of performance. In order to play your best, you have to look the best.
The week of tryouts that ensued flew by me in such a flash. To be honest, I can't tell you a single thing that happened that week. All I knew was that I was competing for a spot, and I would try my hardest to show that I deserved it. And so I did. I competed. The week flew by me right before my eyes. I saw some of my closest friends get cut from the team. There were now 15 8th graders, and only two would make it. I was very sad, but I only strove harder.
The second to the last day was killer. We worked outside in the batting cages, and we ran quite a few miles. After doing the running for about an hour, everyone was dead tired. Every single person was sweating profusely. But instead of letting us take a break, we went down to the track, and ran even more. I logged so many laps at the track prior to the tryouts. Even though I was pretty much dead, I found a way to keep afloat. Did the coaches notice my hustle? Would my stamina hold? I could only hope and wait for the answer.
Sooner or later, there were only a few select people left. There were about 30 people left trying out for the team. All 30 were good enough to play in All-Stars. 15 of the 30 were 8th graders; only two would make it. While 10 or 11 of the other 15 Freshmen and Sophomores would make it. Most of them were my best friends. But the last day of tryouts had finally come. I would soon know if my hard work would pay off.
The last tryout was at an indoor training facility. I was excited because all of my practicing had been indoors. Indeed, I played quite well that last day. But was it good enough? We hit in batting cages, we took ground balls, we did everything for about two hours. Finally, the coach called us in. The moment of truth had finally come.
The first thing I remember was being in a room with the 30 players and the coach. The coach asked for all the returning JV players to leave the room. They left the room and waited outside. To this day, I do not think my heart has pounded as hard as it did then. I was quite literally shaking, from the anxiety. The coach was being slow and careful. He looked around, deliberately making eye contact with every player.
He then called a few names and asked them to join the others who had left: . . . Young, Mellin, Fallon, Herold, Marshall, Yoest. I did not even know what to think. I left the room with the players and walked outside. . . to the smiling and happy faces of our new teammates.
High fives were exchanged, and everyone was just happy. I made the team! I could hardly believe it. All my hard work had finally reached fruition. I was officially a member of the JV squad. Everyone laughed and joked about "initiations," but that is a whole different story.
I'll never forget making JV baseball as an 8th grader. It was hard. But I loved every second of the preparation, the toil and the reward. I went home and told my folks. I think my mom cried she was so happy. During the tryouts she had gone through surgery, and her future was looking bright. My dad was so proud of me he didn't know what to say.
I go to bed happy, yet nervous. Will I play well during the season, if I play at all? Will the coach like me? What if he changes his mind? What if, what if, what if? I can't sleep…
***
John went on to pitch 214 strikeouts; the high school record.  He would go on to pitch for William & Mary and win a Colonial Athletic Association conference championship.  As of this writing in February 2018, John is in Army Aviation flight school.