June 30; There Are Some Decisions Where Somebody Has To Die MANAGEMENT BY THE BOOK: 365 Daily Bible Verse & One-Minute Management Lessons For The Busy Faithful


Chapter Six: Correction; 30 June
Now go, attack the Amalekites and totally destroy all that belongs to them.
Do not spare them; put to death men and women,
children and infants, cattle and sheep, camels and donkeys.
1 Samuel 15:3
There Are Some Decisions Where Somebody Has To Die
Emergency Vote
The only time a manager should shout or bark out an order demanding instant obedience is if the building is on fire: an emergency.
Navy Seal Marcus Luttrell had a few minutes to make a decision and decided to take part in a vote. It wasn't an emergency, just yet. He writes,
It was the stupidest, most southern-fried, lamebrained decision I ever made in my life," Luttrell writes. "I must have been out of my mind. I had actually cast a vote which I knew could sign our death warrant. I'd turned into a (expletive) liberal, a [half-@ssed], no-logic nitwit, all heart, no brain, and the judgment of a jack rabbit.
Marcus Luttrell tells his story in Lone Survivor and is reported in A war hero from Huntsville rues a decision made in Afghanistan, by Fritz Lanham in the Houston Chronicle,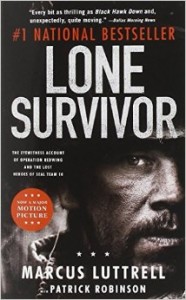 In June 2005, on a barren mountain high in the Taliban-infested Hindu Kush, Luttrell and three fellow Navy SEALs came together to talk.
Their mission — to locate and possibly take out an important Taliban leader hiding in the Afghan village below — had just been compromised.
Three goatherds, one a boy of about 14, had blundered onto their position.
Military discipline is the prompt obedience to orders or the initiation of appropriate action in the absence of orders. In the absence of clear rules of engagement, Marcus Luttrell was on his own. Which is what military officers and civilian managers expect — to make decisions on minimal information.
As they saw it, they had two options: kill the Afghans, or let them go and hope for the best. They let them go.
On the other hand, he felt the promptings of "another soul. My Christian soul."
It's a decision Luttrell bitterly regrets.
Marcus Luttrell made the decision balancing a possible murder charge — which would have been demanded by the main stream media — with the American lives for which he was responsible.
Within hours, more than 100 Taliban fighters descended on the SEAL team. In the terrible gun battle that followed, Murphy, Axelson and Dietz died.
A few miles away, a Taliban grenade brought down a rescue helicopter on its way to help the trapped men, killing all 16 aboard. It was the worst day in the 40-year history of the Navy SEALs.
Marcus Luttrell made the wrong decision. He was thinking like a liberal instead of a military man.
He reports that Axelson favored killing the goatherds. Dietz was neutral. Murphy and Luttrell voted to let them go.
In war every death of a military service member is a public event. The popular influence has made difficult decisions nearly impossible to get right. This puts our military in a no-win situation.
He's certain the goatherds betrayed their presence to the Taliban. "In my opinion, we should have killed them," he says today. "I regret it every day. I miss my friends."
Fortunately, most civilian managers will not have to make such life and death decisions. But decisions still have to be made.
Now go, attack the Amalekites and totally destroy all that belongs to them. Do not spare them; put to death men and women, children and infants, cattle and sheep, camels and donkeys. 1 Samuel 15:3
###