August 19; Televised Champions In The Arena Speak For Millions MANAGEMENT BY THE BOOK: 365 Daily Bible Verse & One-Minute Management Lessons For The Busy Faithful


Chapter Eight: Communication; 19 August
Speak up for those who cannot speak for themselves…
Proverbs 31:8a
Televised Champions In The Arena Speak For Millions
Talking Head
"The American people don't believe anything until they see it on television," said President Richard Nixon.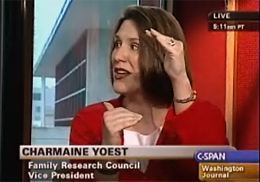 She was selling the most challenging type of product — an intangible.
She was selling in the most challenging venue. Broadcast and cable television. Charmaine has been interviewed on each of the major news and debate outlets. The televised arguments are often maligned as 'shouting shows' (by those academics who are never invited).
It's a big deal these days, but it was not always so,
Television viewing would never be popular it was claimed in 1939, because "it must take place in a darkened room, and demand continuous attention," said Harvard Professor, Chester L. Dawes. (Manchester 1973) page 291
Today the manager and her company's products must compete for attention in the marketplace. TV is the medium.
If you are marketing with success and making a difference in your business, you will be in demand as an on-air talent.
Get ready.
Here's a compressed checklist Charmaine uses. It might be helpful for you for your big show-biz marketing break:
1) Talking points. Talk show host John McLaughlin will not allow any of his guests to have notes on the set. But a pro doesn't need them. Your talking points, your elevator speech, will be memorized. The broader the audience — the simpler and narrower the message.
2) Practice. Roger Ailes, President of FOX News Channel, would evaluate a person's likeability on camera by watching the performance on the TV. With the sound off. Ailes says that if, as he watched, he caught himself standing up to turn up the volume, he knew he had a client he could help. Most business marketing performances — presentations are learned, practiced behaviors.
3) Pre-interview. This is your audition where the booker/producer will run you through your paces. They claim they are looking for competence, of course. But this is show business — the producer is looking for entertainment. Are you personable? Are you likable? And can you still fit into the booker's box. Remember, televised media is similar to print media reporters: the story is already written, already in the can. The writer or booker is merely looking for quotes. That's why they're called talking heads.
4) Logistics. Ask for the network to arrange for a car. Don't burden your staff with driving — and directions.
5) Coach in Your Corner. Take your peeps with you — your entourage. This will give you a chance to practice your opening 8 second sound bites. Andrew Dice Clay would show up — joking and smoking — with his wife(!) two kids, publicist, agent, and assorted strap hangers. The driver and his dogs remained with the car.
6) Non-answer. You Don't Have to Answer Questions. Especially if the segment is taped, you answer the question with the answer you want to convey. Your message. Remember, you do not have to be perfect. In 1940's Fred Allen radio personality called television a medium because "nothing is well done."
7) Time. The appearance is time consuming. Charmaines's gig on Friday took up half a day. Here are numbers down the funnel:
3 hour notice
2 hours in traffic
25 minutes for makeup and mike-up
35 minutes taping
all for…
8 seconds of airtime
8) Cost/Benefit. Gore Vidal once said, "Never turn down a chance to have sex or to go on TV." But it might not be worth it. (The TV part, I mean.) Only agree to an appearance if you can advance your agenda or as an expert witness.
There are some debates that cannot be debated. Or that you should not touch — outside your expertise or the interests of your company. There are a number of other topics that Your Business Blogger dare not put in print. And you never discuss in a short forum. Email me before you go on-air.
9) Feedback. Ask the producers and bookers how you did. Get a beta copy of the show or have your tech guy capture a digital copy. Get — no — demand, honest feedback. There is always something that can be improved.
10) Exploit. Be sure that your appearance is promoted. Clips of your appearances can be shown at board meetings. Company reports. Your bio. Your company blog and social media. This has become vital in our civilization,
In the early 1950's Max Lerner said that television was, "the poor man's luxury because it is his psychological necessity" Judges would agree: TV sets would not be seized by creditors for debts owed. (Manchester 1973) page 718
Mass televised media has become a public utility for delivering entertainment and information.
Speak up for those who cannot speak for themselves, Proverbs 31:8a
###