W. Bruce Cameron's 8 Rules and Intellectual Property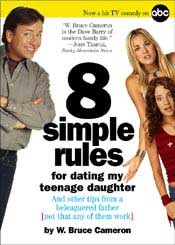 Around 1999 or so I wrote an essay Dating Our Daughters based on materiel that made the web rounds sans copyright. Later I posted the piece to my static website. I credited Anonymous.
Anonymous no more, as many would recognize. 8 Simple Rules for Dating My Teenage Daughter is the intellectual property of W. Bruce Cameron.
As penance, I bought his book (new!). And so should you.
###
The Rules based on Cameron's work.
This posting is an unforced error correction with no admission of guilt. (Well, some guilt: I was raised Catholic.)
Thank you (foot)notes:
See a credited version at Reasoned Audacity.
Update: 12 Oct 2005 Grow a Brain was very gracious in providing a link to the old page.
12 Oct 2005 Blazer Blog has a similar version.
12 Oct Jamey Ragle has it too.
12 Oct Decadent Grace has a very kind link.
12 Oct Bits and Pieces also linked. I am honored. I wish I could take credit.