Microscopic Marketing: The Million Dollar Homepage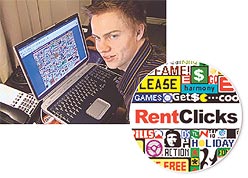 Alex Tew
in the WSJ
How can one get 700,000 hits a day? Alex Tew has the answer.
Blogs can be divided into Linkers and Thinkers. The Million Dollar Homepage might be a case study on both. On the same page.
And makes money.
Whenever I buy ad space, I am sensitive to the sales point about the size of the presentation. A 100 pixel ad placement would not be anyone's idea of a compelling pitch.
Until now.
The internet changes everything. Silly cliche.
Silly me.
The brainchild of Britisher Alex Tew was written up in The Wall Street Journal.
Alex topped $700K toward his goal of $1 million dollars by selling a pixel a buck.
A Market Genius. Alex is even selling in Dollars.
Not Pounds.
###
Was this helpful? Do comment.
Consider a free eMail subscription for this site.
Thank you (foot)notes:
The Million Dollar Homepage has a blog. Of course.
Be sure to visit the testimonial page. Goodness, it's good. Perfect for the skeptic. Like me.
Hat tip for the linkage to The Club For Growth.
Political Teen has open track backs.