Differing Weights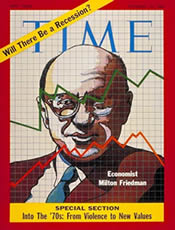 Milton Friedman
Trusting Transactions
The biggest challenge my American female clients have is learning effective negotiations.
They should spend a month in East Asia.
Most retail shoppes in that part of the world are modest mom and pop store fronts. Where every price is negotiated.
Designed to extract the last yuan in consumer surplus.
Shopping in this environment is exhausting for Your (western) Business Blogger(R). Different cultures. But when in Rome…
So I ask one of my local clients his opinion on the custom of haggling over everything. Everything.
I thought he would wax nostalgic on the old style interaction of true competition: buyer vs seller. The best pricing equalibrium of quantity demanded with quantity supplied. A romantic Asian metaphysical transcendence of commerce.
Did he like the East Asian pure sales process…?
He hated it.
(Your Business Professor can be such a dope.)
He said:
Everytime you buy something it takes so long to reach an agreement…it takes too much research for little items
Another local said the non-stop haggling was "draining."
So why does this system continue?
Lack of trust. It is all buyer beware in Mandarin.
There is no trust in a fair offer. And,
There is every expectation to be cheated.
Nobel laureate Milton Friedman spoke to this. He said that a cultural prerequisite of making money is the holding of truthfulness as a common virtue.
When you can trust a merchant's word, says Friedman, "it cut[s] down transaction costs."
Without adherence to common moral principles we must substitute external controls to govern business behavior; efficiency demands a framework of standards and accountability.
But there are modifications a-coming. Large retail shops in new malls have established set price policies.
Large international retailers coming to East Asia, such as Wal*Mart, have set prices. And they are reintroducing old traditions from the world over.
There is an ancient Jewish tradition of the prohibiting of "differing weights" for commodities. Established known weights would be used with a fair scale to measure items, grain to gold. A dishonest merchant would use a lighter or heavier weight to tip the scales for unjust enrichment.
Different prices for different people. Which is frightfully inefficient.
East Asia loves speed. Loves making money. Loves making money fast.
To get rich is glorious.
East Asia will tolerant no wasted motion.
So.
Honesty is the best policy as the Spainard Cervantes wrote. East Asia — China — is pragmatic and should soon adopt fair pricing.
Honesty and trust make for good business.
###
Be sure to Follow Your Business Professor on Twitter