Aslan's On The Move


Chinese Snacks in Chengdu Your Business Professor was looking for a bit to eat. Maybe some local flavor. In Chengdu, in the middle of China.
A traditional snack. I dropped into a small grocer and loaded up. Pringles, Oreos, washed down with a Coke. And Cheetos chaser.
Then I noticed something. As I looked down into my feed bag, I saw international brand names.
(Nothing escapes Your Business Blogger.)
Peter Drucker said that innovation and marketing were the only competitive advantages the USA needed.
The raw ingredients in Coke and Cheetos are commodities. Available anywhere. Cheap.
The real added value is in the marketing. From America.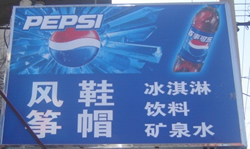 Pepsi ad at The Temple of Heaven, Beijing
Starbucks at Beijing Airport
Narnia? In the Middle Kingdom?
American marketing on the move.
Aslan's on the move.
###
Was this helpful? Do comment.
Consider a free eMail subscription for this site.
Thank you (foot)notes:
Interested in Narnia? If you are near Glen Burnie, Maryland, be sure to come to the C S Lewis lecture Thursday nite.
More pics at The Travel Bug
Visit Basil's Blog for his pick of good posts.