WTC: A Must See Movie



World Trade Center
"Redemption," wrote Cal Thomas earlier when he saw Oliver Stone's movie. Stone may have redeemed himself.
This is a cross post from Jack Yoest, World Trade Center, Stone's New Movie from last week.
Tonight, Thursday, The Washington Insiders were invited to a private screening of World Trade Center. I got in on a waiver. I would have been easy to pick out of this cool crowd: I was the only one with a bucket of (fattening) buttered popcorn, slurping a giant Coke.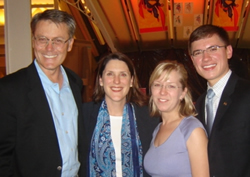 Your Business Blogger, Charmaine
Melissa and Rob Bluey
Charmaine and I joined Rob Bluey, blog editor at Human Events and his wife Melissa from The Atlantic Monthly and the swells at a Cinema near Charmaine's office to see Stone's newest movie.
What it was and what it was not.
It was not a conspiracy movie.
It did not bash Bush.
It was not sappy.
It was not about stupid, church-going nuts.
It did not mock marriage.
It did not blame America.
It did not support radical Islam.
It did not mock Marines.
It did not mock Jesus.
It did not mock cops.
It did not mock family, faith or freedom.
Charmaine says, "It was a Hallmark Hall of Fame special…on steroids." Jim Pinkerton, from the New America Foundation DID NOT tear up. Me neither.
But the theater was a bit dusty. That stuff can get in your eyes. Or was it dust from the movie?
This is a movie that you will see in a few weeks and you will be glad you did. After the viewing, there was no applause, little talking. At the end, the crowd audibly exhaled, as one.
People moved out as if leaving a wake. Tony Blankley and his significant other were the last, the very last to leave. They were moved.
Laura Ingram moved out quick; she was among the first out. Dr. Land, President of the Southern Baptist Convention expected to walk out early and didn't.
We spoke to Blankley. He was surprised at Stone's movie, "Good, True, Patriotic, Religious."
Kate O'Beirne from Nation Review was a bit more skeptical about Oliver Stone, "His other movies don't sell, nobody goes to them. So he made this to appeal — to sell. He wants to make money."
And so he will. You must see how Stone can make a movie with Jesus, yes Him, without a smirk. Mel Gibson can do Passion, sure. But Oliver Stone?
Better check the temperature in Hell. The impossible has happened. Oliver is redeemed.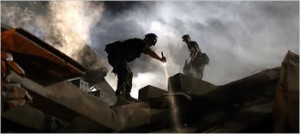 World Trade Center
###
Was this helpful? Do comment.
Thank you (foot)notes:
The movie will be theaters August 9, 2006
Special thanks to Mike Thompson, Senior Vice President of Creative Response Concepts, who coordinated the event for Paramount Pictures.
More on the movie at the jump.
The Raw Story has more. Read the Comments, liberals still believe "9/11 was an inside job no doubt." And my favorite, "Hey cons, Jesus says watch this film or you'll go to hell."