Karen Hughes Is Always On Time With President Bush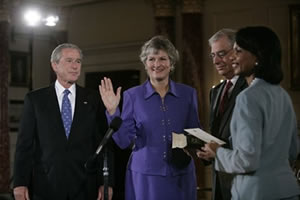 L to R: Bush, Karen Hughes,
husband Jerry Hughes, Condi Rice
Punctuality is the politeness of kings.
Business owners have smaller margins for error than our larger big-company counterparts. One way a person, a company, can stand out and sell more is to respect people's time. By being on time.
Your Business Blogger was reminded of this truth last year while working with small business advertisers in a trade show in Vegas. Some 10,000 of us sat of the feet of the keynote speaker Karen Hughes, presidential advisor. She was flogging her book Ten Minutes from Normal about working on the political campaign trail to get George Bush elected.
She recounted the story of President Bush's particular concern about being on time. She once asked the President why they were leaving so early for a meeting. He said:
"Three words: Late is rude."
President Bush (who has an MBA) likes to get down to business on time. This is is best done in an atmosphere of mutual trust and respect. It can best start by checking your watch. Promptness is the soul of business said Lord Chesterfield 1694 – 1773. Timeliness is impressive.
Today, Emily Post has much to say on the courtesy of timeliness. In Business Etiquette — Tips on Making a Good First Impression Post reminds us — when traveling to an appointment you should "know how to get there and how long it will take. (BEING ON TIME IS CRITICAL)." Emphasis in original.
But sometimes being on time is not good enough. One of football's most successful coaches would tell his players to show up 10 minutes early or be considered late. This discipline is known as "Vince Lombardi time."
Coach Lombardi won games, in part, with the discipline of punctuality. This also teaches the value of time: Man has no nobler or more valuable possession… as Beethoven said.
Being punctual is the politeness of kings. And courtesy to your clients. It would please even the French, like Louise XVIII, who said, Punctuality is the politeness of kings.
###
Was this helpful? Do comment.
Consider a free eMail subscription or RSS for this site.
Thank you (foot)notes:
In the official White House photo above, Condoleezza Rice, Secretary of State, does the swearing in of Karen Hughes on September 9, 2005. Jerry Hughes, Karen's husband holds the Bible. I believe that he would be eligible to enjoy the honor of being recognized by The Denis Thatcher Society.