January 9; Belief That Can Change Behavior MANAGEMENT BY THE BOOK:365 Daily Bible Verse &One-Minute Management Lessons For The Busy Faithful


9 January
Now faith is being sure of what we hope for
and certain of what we do not see.
Hebrews 11:1
Belief That Can Change Behavior
The Proof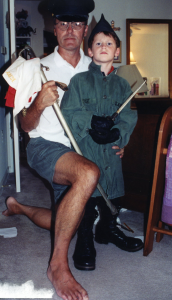 An army cavalry saber hangs over our fireplace. Your Business Professor was once a young dashing aggressive Armored Cavalry Officer, filled with visions of victory. A transcendent kind of victory as only a General Patton, the Founding Father of tank warfare, could deliver.
Your Business Professor with John Yoest and edged weapons on 9.11
World War I saw the start of modern armored warfare. Direct firepower and mobility delivered shock and awe previously unimagined. General George S. Patton established the first US Tank Corps in 1917 – and at the time, American troops had only two tanks. Later, in WWII Patton developed and refined the revolutionary tank tactics of fire and maneuver with armored vehicles.
After the war, a German general said Patton had an intuition about armored fighting vehicles. The enemy officer said that Patton, "had a kind of second sight in regard to this type of warfare." He could "see" into the future. Patton had a sixth-sense about how to lead men on the road to victory.
Patton's leadership and vision were essential because there was no real 'track' record of success with his bold maneuvers. He needed to persuade these young soldiers to trust him with their lives with reasoned audacity.
How did Patton know his army would respond? How did he convince the men to embrace the different and dangerous?
The intermediate objective was to storm Fortress Europe – the hostile Nazi-occupied territory on the Continent — and then the eventual goal of taking Berlin. However, Patton had inferior machinery to get this done. Tank for tank the Allies were no match for Hitler's PanzerKampWagens. But Patton still had confidence.
So what did Patton's "second sight" show him that gave him such confidence?
The early tanks were under-gunned and had the logistical challenges of delivering fuel and scheduling maintenance. But Patton's soldiers fresh off the Kansas farm embraced the changes. His teenaged tankers converted from marching in the open air with rifles, to riding inside an iron box with flammable fluids sloshing around tons of TNT.
In the opening scene of the movie Patton we see how "Old Blood and Guts" gives a welcoming speech to his new troops. The be-medaled god-like hero gives a profane sermon of mission, gore and glory. It was a blood-drenched altar call.
After the speech the soldiers were changed men — remembering the Patton speech to their dying days.
"We'll win this war," Patton told them, "but we'll win it only by fighting and by showing the Germans that we've got more guts than they have; or ever will have." He inspired his men to greatness by envisioning their future. "The shortest way home is through Berlin."
What did the men who heard that speech go on to do? They went home. Through Germany's capital city.
***
There is no scientific proof for Christianity. Changed men are proof, a present witness to a compelling hypothesis. Changed actions point to the strategy's ultimate success. A new person and behaviors are living evidence to the (future) success of an unseen goal.
Hebrews 11:1 reminds us, Now faith is being sure of what we hope for and certain of what we do not see. We hope and pray for the results we cannot yet see. But we have faith – we know that the substance of the vision is real even if not yet visible.
We cannot see or prove on this side of eternity that our faith in the things we are hoping for will come to pass. The final judgment is on the other side of eternity. Or at the end of this sales quarter.
Give your staff an objective towards a goal and they may very well, "surprise you with their ingenuity" as General Patton said.
Your staffers will be different people in working toward the vision.
The proof is a changed life. And they may even be willing to march through Berlin.
###