January 21; A Noble Vision Will Enhance a Noble Effort MANAGEMENT BY THE BOOK:365 Daily Bible Verse &One-Minute Management Lessons For The Busy Faithful


21 January
Unless the LORD builds the house,
the builders labor in vain.
Unless the LORD watches over the city,
the guards stand watch in vain.
Psalm 127:1
A Noble Vision Will Enhance a Noble Effort
One Architect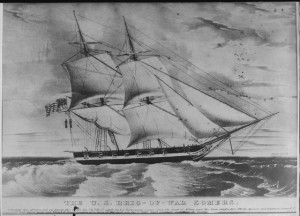 Philip Spencer was nineteen when he was hanged. He was the brilliant son of John C. Spencer, the Secretary of War under President John Tyler. The young Philip could write in Greek, was a founder of Chi Psi Fraternity in Union College. And a troublemaker who read pirate books.
He was an acting Midshipman on USS Somers in training to become a Naval Officer. In 1842, he conspired to murder the captain and take the ship. He was tried, convicted and run up from a yardarm at sea.
It is the only mutiny recorded in the US Navy.
How did the guardians of Naval tradition and education allow this uncontrollable and undisciplined young man in a position of any responsibility?
The country did not yet have a rigorous, consistent structure to groom and vet candidates for command. As early as 1825, President John Quincy Adams outlined the need "for the formation of scientific and accomplished officers."
As it happens George Bancroft, who eventually founded the Naval Academy, was also serving in the Tyler cabinet as Secretary of the Navy, alongside Spencer's father. Bancroft was known in previous generations as the "father of American history." He wrote that, "The Divine Being should …be known…as God present in the flesh…The idea of GOD WITH US dwelt and dwells in every system of thought that can pretend to vitality…"
One "system of thought" that Bancroft, as an architect of thought, labored to build was the Naval Academy in Annapolis, Maryland. A little over a decade after Spencer's mutiny, the United States Naval Academy graduated its first class in 1854.
The mission of the United States Naval Academy is to train young officers in leadership – and also to forge their character for the stresses of command:
To develop Midshipmen morally, mentally and physically and to imbue them with the highest ideals of duty, honor and loyalty in order to graduate leaders who are dedicated to a career of naval service and have potential for future development in mind and character to assume the highest responsibilities of command, citizenship and government.
The company leader must ensure that there is a 'school' for manager development – a structure in place for review and promotion. Like the house and the city the Psalmist celebrates, an organization needs a manager to oversee and caretake its vision. This standard of screening for character can stand watch over the organization.
The good of any organization can best be done by virtuous leadership. A successful strategic vision can best be executed by a team of individuals of high character.
As Solomon said in Psalm 127:1: Unless the LORD builds the house, the builders labor in vain. Unless the LORD watches over the city, the guards stand watch in vain.
###