The Leadership of Managing Time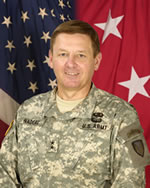 Roger Nadeau
Beethoven once said, "Man has no nobler or more valuable possession than time…" Your Business Blogger was reminded of this yesterday. Major General Roger A. Nadeau gave a briefing on his portfolio to business leaders. I asked him his greatest challenge in running a large organization:
Managing time. The time to put resources to where my people need them — or me…My office is BWI Airport.
Nadeau is the Commanding General, U.S. Army Research, Development and Engineering Command. Nadeau runs, or today, flys to the sound of the guns. General Nadeau was an Armor Officer, before general's stars removed branch designations.
He manages by 'walking (or flying) around.' What was impressive was not his modeling the Army's new stylish combat fatigues, pictured above. It was his emphasis on generating discretionary management time to visit, to counsel, to lead, face-to-face. He manages to make time to do this. He commands and controls his own time.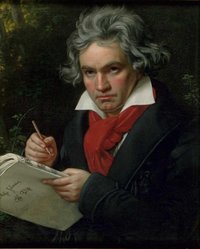 Joseph Karl Stieler (1820)
Beethoven's quote continues, "…never put off till tomorrow what you can do today." The Army gets it right: Proper management of time can give anyone more of the music of this "valuable possession."
This is your most valuable asset: discretionary time.
Bookmark this site to learn more on getting these time skills.
###
Was this helpful?
Email me
.
Thank you (foot)notes:
Mudville Gazette has Open Post.
Common Sense Runs Wild has trackbacks.