Football Commercial for the Big Kids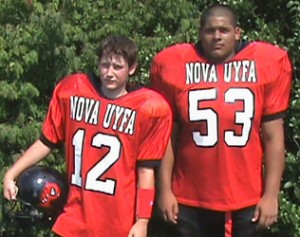 The Dude and Anthony from the Predators The Dude and Anthony cut their first radio commercial inviting Big Kids to play football.
It's running as a public service announcement locally on WMAL, 630 on the AM dial.
The ad was written by Your Business Blogger and was produced by David Salkeld.
Please listen in and let us know what you think.
###
Thank you (foot)notes:
The most valuable part of any exercise is the evaluation component. Alert Readers were most generous in offering advice on a previous radio ad. Even when the advice was brutally honest…
See comments at
Management Training Seminar, A Free Lunch and Rush Limbaugh
See the script at the jump.

Nova Unlimited Football
John: Do you have a child who wants to play football but been told he can't because of his weight?
Anthony: Has your child been told he has to lose weight to play? Does he weigh over 130 pounds?
John: Is he between 11 and 14 and lives in the Fairfax, Arlington or Alexandria?
Anthony: If so, he is eligible to play with the Big Guys in the Northern Virginia Unlimited Youth Football Association.
John: It's designed to get ready for high school football.
John & Anthony: Their motto is "Let the Big Guy's Play!"
John: Hi, This is John Yoest
Anthony: And I'm Anthony Garmendia –
John & Anthony: We want the Big Guys to join us this football season with NOVA Unlimited Youth Football Association. Sanctioned by American Youth Football.
John: My Mom is still concerned about my safety and NOVA unlimited is too. That's why all of their coaches are certified by NYSCA.
Anthony: For more information call Executive Director, Joe Whibley at
703-636-4205,
John: Or check out our website at NOVA FOOTBALL dot COM.
Anthony: They are accepting registration now — hurry! Registration ends soon!
John &Anthony: Let the Big Kids Play!