Supporting the Troops: Rush Limbaugh vs Harry Reid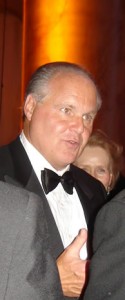 Rush Limbaugh
Photo Credit:
Your Business Blogger(R)
How can one objectively measure support for a subject?
A person a talk on and on about caring and commitment, but how would a third party measure the good intention? Or even, dare we say, the condition of the heart?
The measurable answer may be seen in two items:
A calendar

A checkbook
A simple review of these two artifacts will reveal how much one does care. (Or even You, Gentle Reader.)
By this measure we can note that Limbaugh cares more about the troops than Reid. It is clear where Limbaugh puts his time and his treasure.
Rush Limbaugh talks about supporting the troops on his program and with his personal visits.
Harry Reid talks about surrender.
Tom McMahon presents this simple idea simply. Conservatives like to keep score. (Conservatives still want victory.) See Tom's scorecard on Limbaugh and Reid.
###
Thank you (foot)notes:
See: This War is Lost; Incompetent Generals: A Letter To Liberal Democrat Harry Reid
Harry Reid Democrat: This War is Lost; LT Landaker died for nothing
Where can the Alert Reader support the troops? Please consider Soldiers' Angels. And see Enlist in Soldier's Angels
Even if you don't care for George Soros (and how he made jillions shorting the British pound) there is no doubt where his heart is.