John Wesley Yoest III, Student Athlete Baseball Curriculum Vita


John Wesley Yoest III, Student Athlete, Baseball Curriculum Vita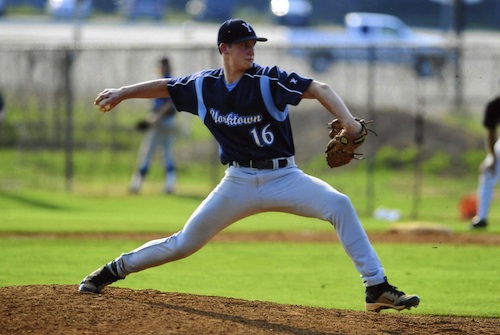 High School
Yorktown High School

5200 Yorktown Boulevard

Arlington, Virginia 22207

Phone: 703-228-5400

Class of 2013

Head Coach, Mike Ruck, MikeRuck25 at hotmail dot com

Email: JohnYoest at Gmail dot com
Vitals
Position: Pitcher

Height: 6′ 0″

Weight: 190 lbs

GPA: 3.80 cumulative

ACT: na

SAT: 1870; Reading 640, Math 620, Writing 610
Armed Services Vocational Aptitude Battery (ASVAB) Summary Results 1 May 2012, Percentile Scores 11th Grade Students
Career Exploration Scores,
Verbal Skills 97
Math Skills 95
Science and Technical Skills 98
ASVAB Tests
General Science 99

Arithmetic Reasoning 90

Word knowledge 97

Paragraph Comprehension 94

Mathematics Knowledge 97

Electronics Information 96

Auto and Shop Information 66

Mechanical Comprehension 98
Military Entrance Score (AFQT) 94
Standards of Learning:
Algebra, Pass/Advanced

Chemistry, Pass/Advanced

World History, Pass/Proficient
Class Rank: Yorktown High does not measure class rank
Senior Year 2013
Elected President of entire High School for upcoming 2013 year
Junior Year 2012
Honors
National Honor Society, Yorktown Chapter

Pitcher of the Year, All National District

First Team, All National District

Second Team All Region, Pitcher (District/Region/State)

Selected to attend Boy's State

Selected to attend United States Naval Academy Summer Session

Executive Board, Student Government, for entire high school

Team advanced to second round of Regional Play-offs

Varsity Football
Statistics
ERA: 2.57

Fast Ball speed, live, during game: 86 mph

Strike outs: 91, highest in DC Metro Area, The Washington Post

60 yard dash, Diamond Skills, January 2012: 6.85 seconds

Member of Yorktown Baseball Team record season 21-4.

Member of Yorktown Football Team record season 10-0.
Sophomore Year 2011
Honors
First Team All National District, Baseball (Pitcher) Virginia

Class President

Varsity Baseball

Varsity Football

JV Basketball

Principal's Award, In Recognition of Your Distinctly Positive Contribution To Our School, Community and School Climate. (Earned by the top seven percent of entire student body; Second Award.)

Virginia High School League, Academic Excellence Award, recognition of outstanding academic achievement while participating in VHSL Interscholastic Activities.

Athletic Honor Roll, Virginia High School League, Northern Region, for achieving a[t least] a 3.50 G.P.A. while participating in Baseball
Statistics
ERA, 3.96, Leading the team in strikeouts 55 facing 168 batters; with 35.34 innings pitched

All Met Sports The Washington Post statistics

Won/Loss: 5-1

Hitting: .333

60 yard dash:

7.00 sec, Timed at U.S. Naval Academy Baseball Leadership Camp, August 2011

7.19 sec, Timed at the Crab Claw Classic, July 2011
Freshman Year 2010
Honors
Class President

Homecoming Prince

JV Baseball

Freshmen Football, Team Captain

Freshmen Basketball

Principal's Award, In Recognition of Your Distinctly Positive Contribution To Our School, Community and School Climate.

John is always friendly to everyone, is always willing to help others and does so with a cheerful attitude and smile
ERA: 0.79
Eight Grade
One of two eighth graders to make the 22 man Junior Varsity Baseball Squad
ERA: 0.50
One of 60 students out of 1748 nominated for the ROCS (Respect Others Community and Self) Goals of Community Behavior June 2011 Sophomore Year
Virginia Baseball Club, Camp Counselor, Intern, Summer 2010, Arlington, Virginia
Self-Defense Yellow Belt, 2nd Degree, April 23, 2004
National District Champions 2009-2010
ACADEMIC and Extracurricular Highlights
John Yoest with sister Hannah Yoest, rower at UVA, completes Suntrust Marathon
Virginia High School League.
Piano Teacher 2012
Chess Champion, Charlottesville, Virginia Parks and Recreation, 2001
John Yoest on set Non-verbal communication skills: Played Thomas Jefferson's grandson in the movie, The Sally Hemming Story age four.
CBS miniseries, Sally Hemings, An American Scandal, February, 2000.

Sam Neill …. Thomas Jefferson

Carmen Ejogo …. Sally Hemings

Diahann Carroll …. Betty Hemings
Baseball training camps (selected recent years)
George Washington University, Coach Steve Mrowka
United States Naval Academy, Coach Ryan Mau
University of Virgina, Coach Karl Kuhn
Virginia Baseball Club, Coach Mike Murray, Aaron Tarr
Student Athletic Performance Training, (SAPT) Fairfax, Virginia
Pinkman Baseball Academy, Coach Jeff Pinkman, Sterling, Virginia
Yorktown High School Students Win OuterBanks Triathlon
Hannah and John
###
With Help From Rival, Generals Emerge in First Place, Sun Gazette, Arlington, VA May 7, 2011
Yorktown Wins Region Baseball Opener, Sun Gazette, Arlington, VA May 28, 2011
Yorktown High School Students Win Outer Banks Triathlon, Sun Gazette, Arlington, VA August 28, 2009