Corvettes in China


1958 'Vette with standard accessories
Years ago Your Business Professor tooled around town in a vintage 'Vette. Pictured with factory options. The blond came (and went) with the machine.
It didn't have 12 cylinders. But it was a product of marketing perfection that got better over the decades.
The late 50's Corvette profile has become the car-guy subliminal imprint. A peculiar American case of brain damage. Suffered by gnarly-car guys who bend wrenches and needles. American Men. Marlboro Men.
I thought.
Except I now have proof that all males the world over have this marketing image in the manliness DNA. Even to the other side of the world.
China manufactures cars. And makes a very good Chevy product. Chinese auto manufacturers wanted to sell the new models a recent car show.
And used a late 1950's 'Vette to advertise the show. The old girl attracts. And seduces men the world over.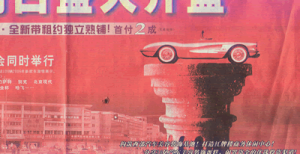 Car Show in China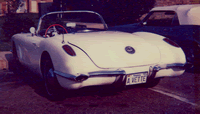 A Vette Your Business Professor's old Corvette.
And of course the early Corvettes are cultural icons in USA also
###
Was this helpful? Do comment.
Consider a free eMail subscription for this site.
Thank you (foot)notes:
So I sold the 'Vette to buy a Ph.D.. I took the Corvette off the pedestal. Charmaine has been there since. Not a bad trade.
But I did buy more Corvettes. And I did put girls in them not my wife.
The Dreamer in her 'Vette and driving instructor, 1997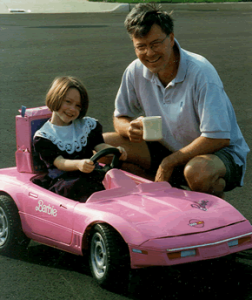 Mudville Gazette has
Open Post
.
Argghhh! has open backtracks.
Read what Peter Thinks on more manufacturing moving to China.
See the GM FastLane Blog. World Keeps Getting Bigger for Chevorlet. Corporate and good.